France Could Put the Brakes on Uber's Mobile-App Car Service
by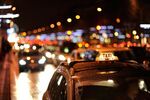 Anyone who has waited—and waited—at a Paris taxi stand on a Saturday night or a rainy weekday will understand why Parisians are big fans of Uber, the smartphone app that lets you order a car at the touch of a button.
San Francisco-based Uber Technologies, which launched the app in France 18 months ago, says Paris has become its biggest market outside the U.S. The Paris service, pronounced by the locals as "OO-behr," books tens of thousands of rides per month and continues to grow, says Pierre-Dimitri Gore-Coty, who heads Uber's French operation. "There's a big benefit to consumers," he says.
Now, though, the French government could bring Uber's growth to a screeching halt. Responding to pressure from regular taxi drivers, Prime Minister Jean-Marc Ayrault is considering new rules that would require any car booked via Uber or similar services to wait a minimum of 15 minutes after receiving the order before picking up the passenger.
The extra wait would undercut a key advantage of Uber, which says it can usually get a chauffeur-driven car to any address in central Paris within a few minutes. "It would be very problematic for us," says Gore-Coty, who says the company is "in discussions" with the prime minister's office about the issue.
Like New York and some other big cities, Paris strictly limits the number of licensed taxis. That means cabs are hard to find at peak times—but because cab owners pay steep licensing fees, they fight hard to keep potential competitors from getting into the business. Uber doesn't operate its own car network; rather, it has agreements with car services and freelance drivers that provide chauffeur-driven vehicles ranging from motorcycles to sedans and minivans.
Some recent French startups, including Snap car and Club Chauffeur, have similar business models.
In a letter posted on the Facebook page of a local taxi drivers' association, Prime Minister Ayrault said he was considering the proposed 15-minute wait to "clarify the distinction" between taxi service and the chauffeur-driven cars provided by Uber and others.
Paris isn't the only place where regulators have tried to put the brakes on Uber and similar services. Miami and Las Vegas have imposed high minimum fares for chauffeur-driven cars, while Colorado has proposed rules that would bar them from picking up and discharging passengers within 200 feet of hotels, restaurants, and bars.
Still, Uber continues to expand. The company's website says it now operates in 39 cities in the U.S., Canada, Europe, Asia, and Australia. And regulatory battles are nothing new for its founder, Travis Kalanick. He told Bloomberg Businessweek's Brad Stone last year that he first realized the company's business model was working in 2010, "when we got a cease-and-desist letter in San Francisco three months after we launched."
Before it's here, it's on the Bloomberg Terminal.
LEARN MORE