Are MOOCs the Beginning of the End for B-Schools?
Francesca Di Meglio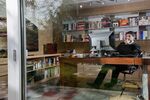 Massive open online courses, or MOOCs, are giving professors the chance to teach thousands of students in just about every corner of the world. But they're also disrupting the world of higher education in a very big way, and how it will shake out for business schools—and all institutions of learning—is the subject of considerable debate.
Among those at the center of that seismic shift is Michael Lenox, a professor at University of Virginia's Darden School of Business. In March, he taught Foundations of Business Strategy on the online learning platform Coursera that drew 90,000 students from 180 countries. The second session of this course will kick off on Sept. 2. He recently spoke with Bloomberg Businessweek reporter Francesca Di Meglio. Here are edited excerpts of their conversation:
What was it like having 90,000 students?
What was more exciting than the number of students was the geographic breadth they represented. There were 180 countries represented among those who originally signed up for the course, and there were 120 countries represented among those who completed it. There was a study group in Mongolia led by a Peace Corps representative. A 12-year-old, who was starting his own business, took the course. A former student from my time at Duke had analysts in his management consulting firm taking the class. Small business owners and entrepreneurs took the course to improve their organizations. In fact, 50 different countries had study groups physically meeting.
What are the limits of teaching an online course?
Courses have to fill three buckets. First, they must disseminate knowledge, which is a strength of the MOOCs. Then, there's facilitation, which happens in the Darden classroom. This is where we discuss and debate ideas. I did a case discussion in a [MOOC] forum. It was better than I expected, but I had low expectations. It lacks the back and forth you get in person. Finally, there's assessment. Students in the online course had to write a multipage strategic analysis of a company at the program's end. They faced a peer assessment, because I could not possibly grade the thousands of papers, even though only between 7 percent and 8 percent of the students completed the assignment. I was surprised to the degree some people were obsessed with grades and worried about the fairness of peers grading them.
Is this the end of business schools?
There is disruptive potential here, and it will first be felt at the lower-level institutions. There will be a modification of the market. At Darden, we need to incorporate technology into the classroom. And MOOCs are a way to extend our brand in the rest of the world. I'm not sure they will ever be a significant money-maker for universities. Still, there will always be demand for premier residential educational programs. You won't see top universities disappearing.
You're a strategy professor. If you were devising a strategy for one of those lower-level institutions to survive and thrive in the era of MOOCs, what would it be?
An obvious, but challenging, strategy would be to try to move up the hierarchy of higher education institutions. Another path would be to emphasize online education and attempt to occupy the mass-market position—also very challenging for an established residential university. Alternatively, it may make sense to try to occupy a specialized niche catering to a particular set of students with a unique set of offerings.
Join the discussion on the Bloomberg Businessweek Business School Forum, visit us on Facebook, and follow @BWbschools on Twitter.
Before it's here, it's on the Bloomberg Terminal.
LEARN MORE