SAC Capital May Face Criminal Charges
By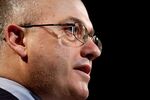 After several days serving as the tip of the spear in the government's investigation of SAC Capital, the Securities and Exchange Commission is about to be joined by criminal prosecutors in their attempt to shut down the giant hedge fund firm.
The Manhattan U.S. Attorney's Office is expected to file criminal charges against SAC Capital Advisors, SAC's corporate owner, as soon as this week or next, according to a person familiar with the matter.
It's a charge that would rock SAC's Stamford (Conn.) offices and could well lead to the end of SAC as Wall Street has known it. But it would also be an acknowledgement that prosecutors were unable to mount a criminal case against Cohen himself, at least so far, and he would therefore avoid facing time in prison. As one person familiar with the investigation described the approach recently: It's not the optimal outcome, but it would serve to stop Cohen.
Throughout, Cohen has vowed to fight the charges and says he has done nothing wrong.
The criminal indictment of a company, rather than an individual, is a rare and potent thing. It was most famously used in 2002 in the case of accounting firm Arthur Andersen, which was found guilty of criminal charges in its role as Enron's auditor and promptly shut down, costing the jobs of thousands of people. At a conference last week, Preet Bharara, the U.S. Attorney for the Southern District of New York, seemed not-so-subtly to telegraph his agency's intentions.
"We have a lot of power to bring cases like that, and we don't do it a lot in part because of Arthur Andersen, and part because we care about what the interest of justice requires and we care about collateral consequences," Bharara said, speaking hypothetically. "But there are circumstances in which it is appropriate to do, particularly when you have continued malfeasance over time among a large number of people."
The tactic was used more recently than the Enron case. Less than a year ago, the U.S. Attorney in New Jersey charged Tiger Asia Management, a hedge fund management company, with wire fraud. The SEC filed a concurrent action accusing the company, the fund owner and portfolio manager, and the fund's head trader, of illegal trading. In that case, the fund owner, Sun Kook "Bill" Hwang, pleaded guilty to the charges on behalf of the company and agreed to forfeit $16 million in ill gotten gains.
The company was shut down.
Before it's here, it's on the Bloomberg Terminal.
LEARN MORE