Pepsi, Dr. Pepper, and the Incredible Shrinking Soda Business
by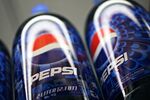 It was another bad morning for Big Soda. PepsiCo and Dr. Pepper Snapple not only failed to deliver good news for the bubbly-drink sector but managed to provide fresh evidence of a cigarette-style decline in the U.S. The soda industry's downward trajectory seems clearly driven more by health concerns and changing consumer preferences than temporary setbacks, like the soggy spring blamed by Coca-Cola for its disappointing sales last week, or other cyclical pressures.
Pepsi's North American beverages—typically about one-third of its business—posted a 3.5 percent drop in sales with only a 2 percent decline in revenue, thanks to higher prices on some drinks. Pepsi managed to beat earnings estimates, but only because of the strength of its snacks business and soda sales abroad. Dr. Pepper Snapple, meanwhile, reported a 4 percent drop in sales by volume, as almost 10 percent of demand for such key brands as Sunkist and Hawaiian Punch dried up. Even the mighty Coca-Cola saw a 4 percent decline in its North American soft-drink sales in the recent quarter.
The divergent fortunes of Pepsi's snacks and drinks operations have prompted a campaign by activist investor Nelson Peltz of Trian Fund Management to split the company. None of the earnings news coming out of the soda giants will help Pepsi fend him off. U.S. consumers have been dialing back on soda for nearly a decade ,and soft drink volume in the country fell another 1.2 percent last year, according to Beverage Digest. Trian, in a white paper released last week, argues that more advertising and "disruptive" soft drinks aren't going to keep customers from quitting sugary drinks.
Dr. Pepper, like Coke, played the cold-weather card this morning to explain the poor sales this spring. Still, it doesn't take a McKinsey consultant or a meteorologist to forecast the response from soda executives to a recent raft of troubling results. Healthier drinks such as Dr. Pepper's Penafiel flavored mineral water are performing pretty well and will likely garner more marketing dollars, and all the soda giants are mixing up drinks with more natural sweeteners. Coke just launched Coca-Cola Life, a drink sweetened with Stevia, in Argentina. PepsiCo is working on a new protein health drink, according to Beverage Digest, with the working product name of Wello. Sounds delicious, right?
Before it's here, it's on the Bloomberg Terminal.
LEARN MORE