Outrageous Defense Strategies: From Bad Lying to E-Mail Overload
Paul M. Barrett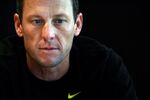 The great American legal tradition of offering shameless defense arguments spans personalities and industries. On this theme, let's catch up with Lance Armstrong, Standard & Poor's, and hedge fund billionaire Steve Cohen. Trying to fend off courtroom antagonists, these high-profile targets are employing unlikely claims of humility to evade liability.
Armstrong, the disgraced cycling champion, is fighting a $120 million whistleblower lawsuit accusing him of defrauding his former sponsor, the U.S. Postal Service. After years of denying doping accusations, Armstrong admitted in January that he had indeed used performance-enhancing drugs. Cycling authorities retroactively took away his seven Tour de France titles. In 2010, his former teammate Floyd Landis filed suit, alleging that Armstrong and others defrauded the government by taking taxpayer bucks based on the understanding that Armstrong would not be cheating. (The False Claims Act enables private citizens to sue on behalf of the government and share in any proceeds.)
Armstrong's defense? The Postal Service should have known he was doping. You read that correctly. Armstrong contends that he was such a pathetic liar that his sponsors had to have seen through his false denials.
The Wall Street Journal's Reed Albergotti and Vanessa O'Connell, who for years have been out in front on the Armstrong controversy, report that the cyclist's lawyers contend that even as their client was stonewalling the drug charges, the Postal Service should have paid more attention to media coverage that suggested he was breaking the rules. When any sensible observer would have assumed Armstrong was doping, the Postal Service "basked in the favorable publicity of its sponsorship," Armstrong defense lawyer John Keker maintained in a new court filing.
Keker, who is based in San Francisco, lands clients like Armstrong because he's known as one of the most effective white-collar lawyers in the country. He represented Armstrong in connection with a federal criminal probe that ended in early 2012 without charges against the cyclist. If Keker thinks the bad-liar defense might work, I would not casually bet against him.
Certainly the rating agency S&P believes in Keker's magic. He's defending New York-based S&P against a headline-making $5 billion fraud suit filed by the Justice Department. In that case, Keker has floated another seemingly outrageous defense. The government accuses S&P of helping trigger the 2008 financial crisis by rubber-stamping as "AAA" esoteric subprime-related securities that went up in flames. As I noted in an earlier post, one of Keker's arguments is that his client "cannot be held liable for its prolific claims of integrity and analytic skill because those boasts were the sort of baloney that investors and the wider public never take seriously in the first place."
This month a federal judge in Santa Ana, Calif., rejected S&P's "mere puffery" defense (yes, that's really what the lawyers call it) while declining to dismiss the government suit before trial. "If no investor believed in S&P's objectivity," U.S. District Judge David Carter wrote, ''is S&P asserting that, as a matter of law, the company's credit ratings service added absolutely zero material value as a predictor of creditworthiness?" Good question.
S&P didn't fold, though, and says it's ready to go to a jury. "The court's decision was not on the merits," Catherine Mathis, a spokeswoman for S&P said in a prepared statement. "At this preliminary stage, [Judge Carter was obliged] to accept as true all the factual allegations in the complaint." S&P, she added, welcomes "the opportunity to demonstrate the lack of merit to the Department of Justice's complaint."
A third surprising defense strategy has emerged in response to the mounting federal legal assault on SAC Capital Advisors. The hedge-fund firm's founder, Steve Cohen, was accused on July 19 in an administrative action by the Securities and Exchange Commission of failing to supervise two portfolio managers who face criminal insider trading charges. (Among the legal luminaries defending SAC and Cohen is Theodore Wells, a partner with New York's Paul, Weiss, Rifkind, Wharton & Garrison.) Bloomberg News reports:
"In the SEC's July 19 filing, the agency presented new details that it said showed Cohen received 'highly suspicious' information that should have caused any reasonable hedge-fund manager to investigate the basis for the alleged wrongdoing. SAC on July 22 rebutted many of the facts outlined in the SEC's administrative action in a 45-page report issued to the firm's employees. There's no evidence that Cohen ever read an e-mail on Dell Inc. that the SEC cited as evidence that he failed to supervise his employees, according to the report."
Cohen would have the government and the rest of us believe that when underlings sent him tips on companies like Dell, he sometimes didn't bother to read the e-mail. That doesn't exactly mesh, however, with Cohen's reputation as a human vacuum cleaner for market-moving information. Still, the overflowing in-box defense is what Cohen is going with. He has said he acted appropriately in trading any shares. We'll see soon enough. Federal prosecutors are preparing to file criminal charges against SAC as early as this week. In pursuit of reasonable doubt, Cohen's legal team will doubtless produce more interesting defense arguments.
Before it's here, it's on the Bloomberg Terminal.
LEARN MORE