MBAs at UCLA Win a Tuition Hike Reprieve
Louis Lavelle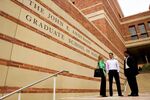 UCLA's Anderson School of Management will not seek a 2013-14 tuition increase for its full-time MBA program, the school confirmed today.
The school has been seeking approval from outgoing University of California President Mark Yudof to forgo state aid for the program and to make it "self-supporting." The deadline for self-supporting programs to submit tuition increase requests was in February, but Yudof's decision granting the program self-supporting status was not made until June, well past the deadline.
The school was planning to seek an increase of $3,800, or about 7.9 percent, which would have brought tuition and fees for California residents to more than $48,000. Having missed the February deadline, the school has no choice but to keep tuition unchanged. The decision, first reported by the Los Angeles Times, effects about 700 students.
The one-year tuition freeze at Anderson's MBA program puts it on equal footing with all other MBA programs in the UC system, which along with all other graduate professional degree programs were spared a 2013-14 tuition hike by the Board of Regents on July 17.
What this means for next year is hard to say. When the Anderson MBA was receiving state support, and state support declined, tuition went up to compensate. Anderson Dean Judy Olian has said one goal of self-supporting status is to moderate tuition increases, but the school has yet to disclose the amount it will seek for 2014-15.
Join the discussion on the Bloomberg Businessweek Business School Forum, visit us on Facebook, and follow @BWbschools on Twitter.
Before it's here, it's on the Bloomberg Terminal.
LEARN MORE