Mallorca Says Adios to Hard-Partying German Tourists
by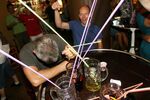 It's peak season at the Spanish island resort of Palma de Mallorca, and as usual the beach is thronged with rowdy young Germans who slurp sangria from communal buckets and swill beer in Oktoberfest-style tents.
Sound gross? Some local officials think so. They're cracking down on public drinking and pushing to develop more-expensive hotels and restaurants along the beachfront. "We will transform the appearance of the Playa de Palma," Alvaro Gijón, Palma's deputy mayor for tourism, told the German tabloid Bild in an interview published on July 21. "Ballermann will no longer exist in its current form," he said, using the German nickname for Palma's beach.
The Germans are outraged. "These Germans LOVE Their Ballermann!" screams a headline in today's Bild. The newspaper invites readers to send in their favorite photos and recollections of booze-fueled Mallorca holidays.
The Ballermann experience is firmly embedded in German culture and even inspired a 1997 feature film, Ballermann 6, the address of a popular beach bar. Shutting it down would be roughly equivalent to Florida's Panama City Beach telling college students not to visit during spring break.
Gijón has told Spanish media outlets that his comments were misinterpreted and that German tourists are still welcome at Palma. Calls and e-mails by Bloomberg Businessweek to Gijón's office were not immediately returned.
It's a touchy problem for Mallorca, which draws more than 3 million German tourists each year, accounting for some 40 percent of all visitors to the island. Tourism, in turn, accounts for about 80 percent of the island's economy.
The vast majority of Mallorca's visitors, though, come on cheap package tours. Tour operator TUI says German bookings for trips to Mallorca are up 10 percent this summer, representing a sort of informal aid package from Europe's strongest economy to one of its weakest.
Gijón, though, told Bild that Palma needs to do more to attract high-spending visitors from locales such as Dubai and China. "Boozing tourism," he said, "is out of date."
Before it's here, it's on the Bloomberg Terminal.
LEARN MORE