Health Care Was Innovating Before Obamacare
Harold L. Sirkin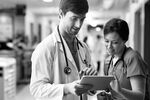 It's not often I take issue with Thomas L. Friedman, the New York Times's three-time Pulitzer Prize-winning columnist. But a recent column leaves the mistaken impression that the 2009 federal stimulus bill and the 2010 Affordable Care Act are the driving forces behind recent innovations in health care, particularly in the area of information technology (IT).
As evidence, Friedman points to the large number of startups—such as Eviti, Humedica, Lumeris and Teladoc—that have opened their doors in the past couple of years to tap into health care's growing electronic information market.
In one sense, Friedman is right. The 2009 "stimulus" bill did include $19 billion for health-care IT. The bulk of the money is paying for doctors to computerize their medical records.
As my colleagues Simon Kennedy and David Matheson pointed out as this was happening, fewer than 5 percent of doctor's offices maintained electronic medical records at the time.
Since it's an ironclad rule of economics that when you subsidize something, you get more of it, Washington money did help spawn many medical IT companies that didn't exist in 2009. This is a good thing, as Friedman correctly points out, because when doctors can quickly access patients' medical information, they can provide, in Friedman's words, "improved health care for more people at affordable prices."
Where I differ with Friedman is his implication that the stimulus bill and Obamacare triggered this burst of innovation. In fact, it began years before.
Matheson wrote about the health-care sector "innovating and reinventing" back in 2007, long before the stimulus bill and Affordable Care Act were ever conceived. He singled out employers and health plans such as Aetna, Wellpoint, and many of the Blues as recent converts to the importance of prevention. He also cited innovative companies such as Healthways as making it easier for people to live healthier lives.
One of the major factors driving this transition was information technology, not only by giving a boost to "social medicine," but by increasing the "availability of reliable, transparent, standardized medical data."
In 2007, Matheson predicted that most Americans will have access vast amounts of medical data. "We will know who does what well; we will know who comes up short; and we will know the costs. The trend is irreversible and should have a profound impact on competition, productivity, and quality."
The phenomenon Friedman recently discovered was well under way long before Washington got heavily involved.
Consider Surescripts, for example, which describes itself as "the most comprehensive ecosystem" of pharmacies, payers, benefit managers, physicians, hospitals, health information exchanges, and health technology businesses in the country. The company was formed in 2001 and merged in 2008 with RxHub, which also was founded in 2001. Washington had no hand in it.
While Washington may have given a boost to health-care IT with its stimulus bill funding, the revolution began long before that.
Before it's here, it's on the Bloomberg Terminal.
LEARN MORE