pursuits
Even Stadium-Naming Deals Are Bigger in Texas
By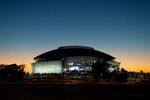 In 2009, after the financial crisis had given way to the Great Recession, the Dallas Cowboys settled on a straightforward and not particularly lucrative name for the team's lavish new home: Cowboys Stadium. The complex was unofficially dubbed JerryWorld after team owner Jerry Jones, who had chosen to hold off on a long-term naming rights deal for obvious reasons. "There can be better timing," Jones explained to the Dallas Morning News. Or, as David M. Carter, executive director of the University of Southern California's Sports Business Institute, put it at the time: "Right now, the only thing anybody should feel safe about naming is their dog."
Four years after opening the $1.2 billion, 80,000-capacity monster in Arlington, Tex., it appears that Jones may have at last found a time and a suitor to his liking. Multiple outlets have reported that the Cowboys are in advanced negotiations with AT&T over a deal to rename the stadium. While the details are unknown—and Cowboys team president Stephen Jones was quick to dismiss discussions as "premature"—many speculate that what follows could be the biggest naming rights deal in professional sports history. Rumors put the annual fee at upwards of $25 million—or $14 million more than the rights that jeans maker Levi Strauss paid for the San Francisco 49ers' brand-new, digitally tricked-out home. "If an agreement is reached," wrote the Dallas Business Journal, "a new naming rights deal could go into effect at the beginning of the 2014 season."
The telecom giant has been a Cowboys candidate from the very beginning. Headquartered in downtown Dallas, AT&T is a big spender in the sports world as the title sponsor for the AT&T Center in San Antonio, the home of the NBA's Spurs, and AT&T Park in San Francisco, the waterfront home of baseball's Giants. AT&T has even found a prominent toehold inside Cowboys Stadium without putting its name on it. "They have positioning on the giant scoreboard," says Michael Wright, executive vice president at the Chicago-based sponsorship consultant IEG, referring to the world's largest HD television. "They're already in for multiple millions already, so they are in a logical position to step up and be in a naming position."
Of course, a lengthy naming deal would be a boon for the franchise. "It's obvious," says Wright. "As soon as you have that long-term revenue stream, the value of the stadium only goes up." The calculation for AT&T is more complicated. The agreement could potentially span decades at a cost that could easily run into the hundreds of millions. Citigroup, for instance, has a 20-year, $400 million deal for the rights to Citi Field, home of the New York Mets.
The question remains whether spending that kind of money will produce returns. Consider that MetLife Stadium in East Rutherford, N.J.—formerly the Meadowlands—commanded an estimated $16 million per year for naming rights. And MetLife serves as home field for not one, but two NFL teams and sits just outside the biggest sports media market in the world. The Texas stadium houses a single team, even if the field will see lots of extra use. Fans of Notre Dame and LSU will each be descending on JerryWorld this fall for games.
Regardless, says Wright, these deals have a way of panning out. "If you look at the brands that have invested in stadiums over the last 20 years, some very smart marketers made those decisions," he says. "So many smart people are choosing to do the same thing, which in some ways counteracts the idea that it's overpriced. And if you take a look, AT&T are always trying to outspend Verizon. They're always battling each other for market share. It's a classic Coke vs. Pepsi, Miller vs. Bud affair."
(
Corrects home of MetLife Stadium and 49ers deal
)
Before it's here, it's on the Bloomberg Terminal.
LEARN MORE