E-Mail Management Tips From Steve Cohen
By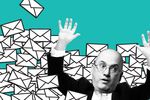 In a 46-page document shared with employees of SAC Capital Advisors on Monday, lawyers for Steven Cohen argued that the hedge fund manager "did not even read" the 2008 e-mail regarding Dell cited by the Securities and Exchange Commission in its administrative proceeding arguing that he has been negligent in his oversight of his firm. On an average day, the report said, Cohen gets about 1,000 e-mails, and he opens just 11 percent of them.
See? Billionaire hedge fund managers embroiled in years of legal trouble: They're just like us! We all have too much e-mail, and it's hard to know which ones to read and which ones to summarily delete, especially when some of them will make you spectacularly rich, others will get you in big trouble, and some are just notifications from Facebook.
Managers have been dealing with this problem for years and, like painters, have developed different styles for handling it, such as:
Read nothing. Bud Selig doesn't bother with e-mail at all, and he's the commissioner of Major League Baseball.
Read nothing until sender resends. This self-sorting method is extremely effective. Read only messages that have been resent, or begin with the words "I am just following up," or "Really need an answer soon." If it's important, the person will try again.
Read e-mails from people above you but not below you. Also known as "managing up."
Read everything. Business school professor Adam Grant claims to not only read all his e-mail, but reply to every single message. It's part of his philosophy of giving in order to receive. He is currently being tested by thousands of readers who want to find out if he'll actually respond.
Have an employee read your e-mails and forward the important ones to you. This, the SEC alleges, is how Steve Cohen actually handled his e-mail, which may make the claim that he only read 11 percent of his e-mails something of a canard. Regarding the Dell trade, an "SAC employee whose duties included forwarding to Cohen trading-related information worthy of Cohen's attention" forwarded news to Cohen about Dell, according to the complaint. He had been building a position that had reached about 500,000 shares, and then dumped them within two hours of receiving the e-mail, according to the SEC.
If, of course, he read that e-mail.
Before it's here, it's on the Bloomberg Terminal.
LEARN MORE