Boeing Boosts 2013 Forecast as Profit Beats Estimates
Julie Johnsson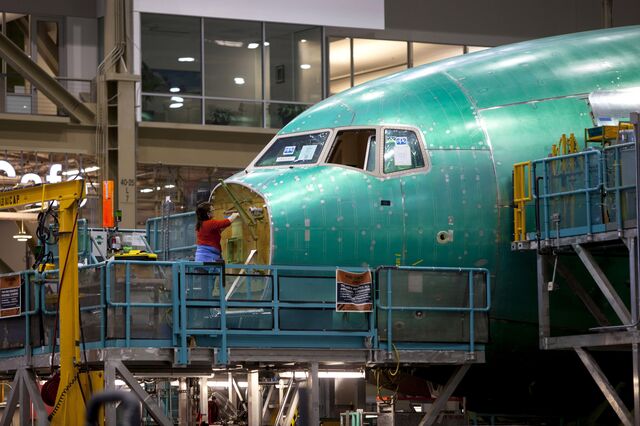 Boeing Co., the world's largest planemaker, boosted its full-year earnings forecast after second-quarter profit surged on higher aircraft deliveries.
Earnings excluding some pension expense will be $6.20 to $6.40 a share in 2013, Boeing said today, an increase of 10 cents at both ends of the range from an April projection. Profit on that basis was $1.67 a share last quarter, topping the $1.58 average estimate of 20 analysts surveyed by Bloomberg.
While high production costs for the 787 Dreamliner damped margins, the faster assembly pace for commercial jets bolstered cash flow because of the payments that arrive upon delivery of new aircraft. Quarterly jet shipments rose 13 percent to 169, including 16 Dreamliners delivered after regulators cleared it to fly in April. Boeing handed over six 787s a year earlier.
"Boeing is going to generate a tremendous amount of cash over the next few years," Peter Arment, a Birmingham, Alabama-based analyst with Sterne Agee & Leach Inc., said today in a telephone interview. "This quarter is the beginning of evidence of that."
Operating cash flow doubled to $3.5 billion as Boeing increased sales and factories worked more efficiently. The company also repurchased 10.2 million shares valued at about $1 billion and paid $400 million in dividends, a 12 percent increase from a year earlier.
'Investor Focus'
"Investor focus has switched to Boeing's cash flow," Robert Stallard, a New York-based aerospace analyst with RBC Capital Markets, wrote in a research note today. While cash generation "was strong, we would have expected the company to have been more aggressive on the buyback in the quarter. Presumably this leaves plenty of firepower for future buybacks or dividend increases."
The shares fell 0.8 percent to $106.95 at the close in New York. The stock advanced 42 percent this year, topping a 18 percent gain for the Standard & Poor's 500 Index. Arment lists Boeing as buy, and Stallard's rating is the equivalent of a buy.
With expectations high, "we suspect bears will pick at anything that isn't pristine in the quarter," Carter Copeland, a Barclays Plc analyst in New York, wrote in a report today.
Even with the new full-year EPS forecast, Boeing's projection fell short of the $6.51 average estimate of 21 analysts surveyed by Bloomberg.
Production Costs
Another concern was an uptick in the 787 program's deferred production costs to $86 million per plane, up from $73 million a quarter earlier, said Copeland, who rates the shares the equivalent of a buy.
Unit costs rose as Boeing starts to build the first Dreamliner derivative, the larger 787-9, Gregory Smith, Boeing's chief financial officer, said on the company's earnings call today. The planemaker also added $1.5 billion in gross 787 inventory during the quarter, for a total of $30.3 billion, to support speeding production from the current seven jets a month to 10 by year's end, he said.
Since January, Boeing has used a profit measure -- so-called core earnings per share -- that it said gives a clearer picture by adjusting for market fluctuations in pension costs. Without the change, net income was $1.09 billion, or $1.41 a share, compared with $967 million, or $1.27, a year earlier.
Defense, Space
Revenue rose 9 percent to $21.8 billion as Boeing delivered more higher-margin 777 and 737 jets and its defense unit won international business to help blunt the impact of U.S. budget cuts. Analysts had predicted sales of $20.8 billion.
The defense, space and security segment earned $776 million, a 4 percent increase, on sales that were little changed at $8.19 billion.
Boeing landed 481 commercial aircraft orders with a list value of $40 billion during the quarter as it committed to build a stretched version of the Dreamliner, the 787-10. The company's commercial airplanes unit has a backlog of almost 4,800 airplanes valued at $339 billion.
That segment earned $1.45 billion from operations, a 20 percent increase from a year earlier, as revenues rose 15 percent to $13.6 billion. An operating margin of 10.7 percent margin was "very strong," even with rising deliveries for the Dreamliner, which isn't yet profitable, Arment said.
The latest setback for the program, a July 12 fire aboard a Dreamliner parked at London's Heathrow airport, "shouldn't have a material impact on Boeing's valuation," Douglas Harned, an aerospace analyst with Sanford C. Bernstein & Co. in New York, said in a July 19 research note.
Investigators are focused on an "off-the-shelf" emergency beacon made by Honeywell International Inc. rather than a new 787 technology, raising the likelihood the incident is a "one-off" issue costing tens or hundreds of millions of dollars, rather than billions, he said.
The global fleet was grounded for three months this year to fix lithium-ion battery meltdowns.
Before it's here, it's on the Bloomberg Terminal.
LEARN MORE