business
Bigger Appetites at Wendy's Redesigned Restaurants
By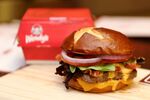 Sure, Wendy's unlikely union of pretzels and cheeseburgers might be getting all the attention, but the chain has a much more complicated project in motion: the gradual redesign of its North America restaurants. The new-look fast-food outlets feature fireplaces, Wi-Fi, and digital-menu boards, as we noted earlier this year, and renovations will be completed at 200 locations by year's end.
So far the result, according to Wendy's, is more than a modern vibe. The revamped locations are selling more food, with both higher average checks and more numerous transactions. The design comes in three variations, allowing the company to see if the differences can be measured in the bottom line. Weekly sales at restaurants with the highest-end makeover are up about 20 percent year on year, an improvement that Wendy's chief executive, Emil Brolick, called "sustainable" during Tuesday's earnings call. Stores with the less expensive versions of the design are expected to see sales bumps in "the high teens," he said, which suggests people don't notice the difference between the tiers too much.
"More people are opting to dine in rather than just using the pickup window," says Wendy's spokesman Bob Bertini in an e-mail. That's the idea: get comfy, linger by the fireplace with your laptop, and order a Frosty (yeah, right, you're getting another pretzel burger). Interestingly, drive-thru and take-out business has improved as well, a sign Bertini said, that the dining rooms can be appealing even from the street.
The new stores are outperforming regular ones by far. Overall, same store sales at company-owned locations in North America were up only 0.4 percent in the second quarter, while total company revenue for the quarter rose only 0.72 percent.
Wendy's will continue to be "very aggressive" with renovations, Brolick said, and plans to have renovated more than 600 company-owned stores by the end of 2015. To support this, the chain is selling 425 company-owned restaurants to "well-capitalized" franchisees who will pay for the makeovers."The magnitude of the consumer response that we're getting to these restaurants I think by itself is an economic motivation," the CEO said.
Before it's here, it's on the Bloomberg Terminal.
LEARN MORE