'Zen Yang, Dude:' Why MBAs Need to Be Bilingual
Francesca Di Meglio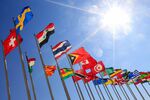 As an undergraduate, Scott Goldman would walk around Tufts University with a whiteboard so he could constantly practice writing Chinese characters. An international affairs major, he later studied at Duke University's Fuqua School of Business and now works for the school in Shanghai. Goldman says foreign language skills are becoming critical for B-school grads, citing as one example the Chinese search giant Baidu, where Mandarin is all but required. He expects that to be true of other Chinese companies that are increasingly a draw for U.S.-based business students.
Indeed, more people think that a foreign language is an essential tool in the business student's toolbox. An online poll conducted by the Economist has gathered 1,544 responses, with 73 percent saying it's important to learn a new language at business school.
Recruiters are urging schools to pay more attention to language skills as their employers eye new markets, says Jacqueline Wilbur, executive director for undergraduate and masters programs at MIT Sloan School of Management. A foreign language, when relevant to a student's greater career goals, can be a real asset, she says. Sloan students who want to pick up another language can take MIT courses as electives.
Among the employers urging schools to do more is General Electric. Chris Thomas, who manages GE's Experienced Commercial Leadership Program, which places new recruits in rotations all over the world, says candidates who speak more than one language are "attractive and more marketable." Business schools are directing students to their universities' language offerings and enhancing global immersion trips with language study, he says, and for two years GE has offered its own training when necessary.
"There's a growing need to understand and relate to customers and partners in a language that they are comfortable speaking," says Thomas.
Without foreign language skills, business students might find their careers restricted. At Procter & Gamble, language skills are required for a large number of roles in Europe, Asia, Latin America, and the U.S., says Scott Isenhart, North American talent supply leader.  "Being fluent in a foreign language is a definite plus," he says.
Despite the growing recognition that language instruction is important for business students, programs that actually bake it into their own curriculum are rare. European schools typically require fluency in at least one foreign language, but that's rare in the U.S., where the Thunderbird School of Global Management is one exception.
So should you give up your dreams of becoming chief executive of a multinational because you're not fluent in a foreign language? Not quite, says Goldman.
"As a foreigner in China," he says, "even a basic 'Zen yang?'—meaning 'What's up?'—draws a big smile and makes people warm up to you."
Join the discussion on the Bloomberg Businessweek Business School Forum, visit us on Facebook, and follow @BWbschools on Twitter.