RadioShack Cuts the Clutter and Asks You to 'Play' With Pricier Gadgets
by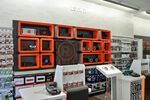 RadioShack wants you to "come play," as the retailer's new slogan insists, but mostly it needs you to come in and spend more. The struggling company is pitching higher-end products as it tries to reduce the clutter inside its stores by shelving fewer items and focusing on a new, less-dense format for high-traffic areas.
Ten new stores designed around the new concept will open across the New York-New Jersey metro area this year, with the first example of the uncluttered approach already open on Manhattan's Upper West Side. That initial high-touch store, where employees are given deeper training into the product line, is designed to serve as "a living, learning laboratory" for how the chain will expand the concept, RadioShack Chief Executive Joe Magnacca said today on a conference call with analysts. The company is also expanding into college bookstores, with sections devoted to electronics gear. The first one opened last week at the University of Texas at Austin.
Those efforts are part of a broad turnaround RadioShack has embarked on under Magnacca, who joined the company in February from Walgreen. One of his signature efforts is to streamline inventory and reduce the number of items in the typical RadioShack from more than 4,000 to less than 3,000. Expect to see fewer cheap cables and plastic electrical adaptors and more upscale, higher-margin goods, from telephones to headphones.
Part of the effort to entreat consumers to "come play" at RadioShack—"a call to action to shop with us," in the Magnacca's words—will involve making store inventories more specific to their location and getting more focus on the merchandise at a particular store, with less of a supermarket/hodgepodge feel. Mobile phones, for example, are moving to wall displays, no longer perched on flat tables and countertops.
Until the makeover is complete, it's probably going to be a bumpy road for investors. The Fort Worth-based retailer announced another brutal quarter today, with its loss doubling to $53.1 million from $21 million a year ago. Sales fell 0.5 percent, to $844.5 million (although it managed to top Wall Street estimates, according to Bloomberg data). Same-store sales rose 1.3 percent, the first such growth since late 2010, helped in part by aggressive markdowns to clear that unwanted inventory. RadioShack shares fell 6 percent in morning trading but have risen about 35 percent this year.
The company also announced the hiring of Holly Etlin, a turnaround expert from Alix Partners, to serve as interim chief financial officer. Dorson Lively, the previous CFO, resigned to take on the same role at gym chain Planet Fitness. RadioShack also said it had retained investment bank Peter J. Solomon Co. to review its capital structure and ensure sufficient financing for its turnaround.
Before it's here, it's on the Bloomberg Terminal.
LEARN MORE