MBA Recruiting Is Down Again
Louis Lavelle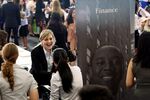 MBA recruiting deteriorated this spring largely because of declines at top-ranked schools, with nearly half of all business schools surveyed reporting that on-campus hiring activity was little changed or had decreased, according to new research.
The survey of 84 business schools conducted in late May is in marked contrast to last year, when 36 percent of schools reported that on-campus recruiting activity decreased or remained unchanged. The number of schools reporting that MBA job postings on B-school job boards were flat or down also increased, from 21 percent in 2012 to 25 percent this year.
Much of the stagnation appears to be happening at top 20 business schools, where 44 percent reported that on-campus recruiting was flat and 22 percent reported that it had decreased. Nine percent of second-tier schools and 10 percent of lower-ranked schools reported declines, according to the MBA Career Services & Employer Alliance.
Jack Oakes, co-chairman of the group's research committee and assistant dean for career development at the University of Virginia's Darden School of Business, says the tepid growth of the economy since last year is the main reason for the overall stagnation. The drop-off at top schools may be a sign that more MBA students are getting offers from summer internship employers, who then do less on-campus recruiting in the spring. "We don't know the exact reasons yet, but I believe that is one factor," Oakes says.
Financial services, which accepts more than a third of MBA grads at many top schools, was the weakest industry overall, with more than 20 percent of schools reporting a decline in recruiting activity. But it's a vast improvement over last year, when more than 40 percent reported a decrease. Consulting, another industry on many an MBA's short list, also saw a big improvement, with 10 percent of schools reporting a decrease this year, down from 20 percent in 2012. The strongest industry was technology, where more than 60 percent of schools reported an increase in on-campus recruiting.
Another area showing a big surge was hiring by startup companies. Fifty-seven percent of all schools reported an increase in hiring by companies less than a year old, compared with 30 percent last year. Interest in startups among MBA students—starting their own, working for others, or just learning more about them—has increased in recent years.
Join the discussion on the Bloomberg Businessweek Business School Forum, visit us on Facebook, and follow @BWbschools on Twitter.
Before it's here, it's on the Bloomberg Terminal.
LEARN MORE