KFC's China Recovery at Risk of Being Flushed Away
by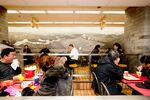 Having battered KFC with reports last year that the company sold chicken fattened on illegal drugs, China Central Television now says the ice cubes at a KFC restaurant are dirtier than toilet water. The state-owned broadcaster found that ice in a Beijing outlet had 13 times as much bacteria as water from a toilet bowl and 20 times the national limit. (McDonald's ice, according to the CCTV report, had less bacteria than toilet water but still didn't meet national standards.)
Sure, we're talking about a cup of ice from one of KFC's 4,429 restaurants in China. But that didn't stop CCTV's report this week from spawning global headlines or getting reposted more than 100,000 times over the weekend on Sina Weibo, China's largest microblogging site. With Yum Brands planning to open at least 700 new KFC stores across China this year, the fallout raises questions about the depth of the challenge to the Colonel's reputation.
Yum Brands spokesman Jonathan Blum reiterated the small-bore nature of the incident behind the latest headlines. "We have a strict quality assurance process for ice and water," he said, "Right now, we're investigating the report about an isolated incident at one restaurant to ensure that our standards are followed."
KFC China is not just the most important market for Yum, which also owns Pizza Hut and Taco Bell, but was until recently viewed, too, as the greatest fast-food success of the past decade and hailed as a role model for any multinational expanding to new markets. With its localized menus and decentralized control under Sam Su, KFC China let Yum deliver a decade of double-digit earnings growth even as the Louisville-based chain closed stores and lost share in its home market.
When CCTV ran an investigative report on Dec. 18 accusing two KFC suppliers of fattening their chickens with illegal hormones, antibiotics, and round-the-clock lighting to trick the birds into eating nonstop, it sparked a government probe that found isolated evidence of amantadine—a drug used to treat Parkinson's Disease—but didn't result in fines for Yum. Still, the media attention, combined with growing competition and fears of bird flu, have led to falling sales in KFC's key market ever since. In its second-quarter earnings report earlier this month, Yum said same-store sales in China would recover from seven straight months of declines in time to post gains in the fourth quarter.
Now, just as Chinese consumers regain their appetite for chicken in general and KFC in particular, CCTV is back with a report that suggests customers would be better off drinking toilet water than an icy soda from KFC. The outlet in question apologized and vowed to clean its ice machine, as did the McDonald's and Kung Fu restaurants that fared better on the toilet test. While a food safety expert said such germs could cause dysentery and diarrhea, it's not clear that there were any risks to consumers.
But in a country that has faced food safety crises from melamine in baby formula to toxic cadmium in rice, just the hint of dirty practices risks putting people off their food. For Yum, it's another reminder of the perils in managing a massive and fast-growing brand in China.
Before it's here, it's on the Bloomberg Terminal.
LEARN MORE