business
Is the Company Digitizing Your Business on This List?
Ira Sager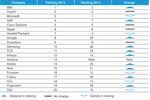 There's no shortage of market researchers that will help business leaders evaluate tech companies. But one box score you may want to check is the second annual Booz & Company Global Information, Communications, and Technology 50 study (helpfully known as the ICT 50). The management consultant ranks the best of tech based on financial performance, portfolio strength, go-to-market capabilities, and innovation and brand recognition.  Above are the top 20 companies on the list.
As a bonus, Booz identifies five companies that just missed the list: Chinese hardware manufacturers, Huawei Technologies, Lenovo, and ZTE, in addition to Salesforce.com and a rebounding Yahoo.
Before it's here, it's on the Bloomberg Terminal.
LEARN MORE