Ex-SEC Enforcement Chief Jumps to Big Law for $5 Million a Year
Paul M. Barrett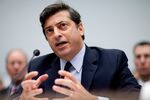 They're celebrating in Chicago, as that city's well-known corporate law firm Kirkland & Ellis has won the services of ex-SEC enforcement chief Robert Khuzami.
Much of the media coverage of Khuzami's career move understandably focuses on the tension generated by a former Wall Street cop switching sides to defend the financiers he used to police. Intriguing questions arise about whether the government can have any hope of keeping up with deep-pocketed miscreants when its most talented investigators and prosecutors tend to trade on their reputations to win well-compensated perches in the private sector. When asked, Khuzami offered the classic lawyer's answer: "It's both aggressive enforcement and vigorous defense that are critical to justice and fairness," he told the New York Times.
Here's another issue raised by the Khuzami news: Is Big Law setting a trap for itself with ever-escalating partner pay? Kirkland & Ellis reportedly has guaranteed Khuzami more than $5 million a year. That's impressive, even by Kirkland & Ellis's lavish standards. According to American Lawyer, the 1,600-attorney firm paid average per-partner profits (or PPP) of $3.25 million in 2012, good for a rank of No. 7 on the closely watched AmLaw 100. (New York's Wachtell, Lipton, Rosen & Katz was No. 1, with PPP of $4.98 million.)
With gross annual revenue of nearly $2 billion, according to American Lawyer, Kirkland & Ellis will not go broke paying Khuzami what the firm has promised. From all appearances, Kirkland is thriving financially. The Big Law industry overall, however, has hit choppy water, as I explained in May in a Bloomberg Businessweek cover article. (On July 21, the New Republic published a substantial piece on the same theme.)
One of the central reasons that many once-august corporate law firms are now struggling for stability is PPP envy—the obsession with which firms are paying star partners how much. That jealousy leads to interfirm bidding wars and a constant churn of departures, arrivals, and pay squabbles.
"For the past 20 years," Steven Harper writes in his insightful recent book, The Lawyer Bubble: A Profession in Crisis, leading a firm up the AmLaw 100 "has been regarded as a badge of honor for the managing partner who could achieve it." Harper mourns this tendency. He blames it, in part, for the collapse of such storied firms as Dewey & LeBoeuf and the widespread misery in his former profession. Harper, you see, is a recently retired corporate litigator and partner at Kirkland & Ellis.
Before it's here, it's on the Bloomberg Terminal.
LEARN MORE