Behind Domino's Sales Surge, a Better Pan Pizza
By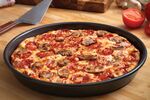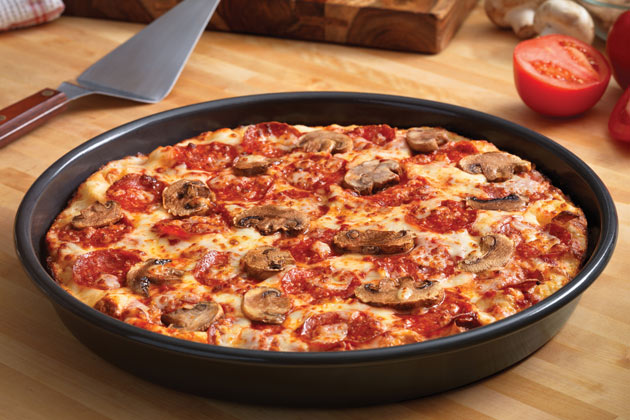 Domino's, the world's second-largest pizza chain, showed its strength with second-quarter results that saw U.S. and international same-store sales climb 6.7 percent and 5.8 percent, respectively. Those are decent numbers in a fast-food environment widely acknowledged as difficult—just look, by way of contrast, at the pains McDonald's took to highlight the sectorwide problems weighing its disappointing earnings yesterday.
So what's Domino's secret weapon? Look no further than the Handmade Pan Pizza, a menu item that was introduced last year and has since become "the lead reason for our sales success in the past two quarters," says Domino's spokesman Chris Brandon, who declined to break out pan pizza sales. "Pizza Hut had always kind of dominated that product category."
Sure, it's just another crust option, but successful crust innovation is actually a proven path to pizza success. Perhaps the best example is Pizza Hut's Stuffed Crust, which quickly became one of its biggest brands after it launched in 1995. (Pizza Hut's same-store sales in the U.S. fell 2 percent in the second quarter; a representative declined to comment about pan pizza.)
Pan pizzas now account for 20 percent of U.S. pizza sales at Domino's, according to the company, but it hasn't always been a winner. An earlier "parbaked" pan pizza—meaning partially baked and refrigerated before being fully baked—offered at select stores proved "noncompetitive." In September the company rolled out the new pan pizza made from fresh, unfrozen dough, which results in a thicker, more buttery crust. Some reviewers so far have preferred Domino's pan pizza over Pizza Hut's.
The new pan pizza hasn't won over customers from rivals yet. "We're getting new customers," Domino's Chief Executive Officer Patrick Doyle said at an event in May, "but the order-count growth we've been seeing has clearly been coming from more orders from existing customers." As he noted at the time, the average American family orders pizza 22 times each year, and Domino's gets less than half those orders.
Doyle said during Tuesday's call that the company's current strategy is to introduce fewer but, hopefully, stronger products. "We don't need constant new pizza news or limited-time products to drive our business," he said. Still, Doyle expects a slow recovery for consumers. That's sure to impact how much pizza Domino's can sell, no matter how buttery the crust.