business
A UCLA Program Tailored to the Needs of 'Big Data'
Francesca Di Meglio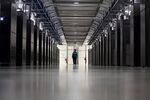 The big data phenomenon is getting bigger by the minute, and no where is that more apparent than in the Masters in Financial Engineering program at UCLA's Anderson School of Management. An increase in the big-data jobs has resulted in a surge of 470 applications to the program, up from 266 in 2012. So far, Anderson has accepted 75 applicants and expects 53 to enroll, 13 more than last year.
The one-year specialized course, now in its fifth year, is aimed at students who want jobs in risk management, investment banking, money management, derivative pricing, private equity, hedge funds, and technical operational areas of corporate finance. Increased federal regulation is making financial companies hungry for graduates with strong quantitative skills who can understand risk management, says Hanno Lustig, academic director of the program.
"Quants used to be off in a corner doing their own thing," Lustig says. "Now they are central to the organization."
Eighty-five percent of the 30 graduates seeking employment in 2012 had been placed in full-time positions within about five months of graduation, with salaries ranging from $90,000 to $100,000. Citigroup, Deutsche Bank, and Bank of America are among the traditional companies that have employed the program's graduates.
What is contributing to the unexpected popularity of this degree is that companies outside of financial services are looking for employees with sophisticated quantitative skills, says Lustig. Tech companies are keen to take advantage of the quant skills of financial engineering students, which they view as critical to innovation and creating new markets, he adds. Lustig cites the company OpenX, an online advertising exchange, which has hired interns from the program. Google also recently employed an MFE graduate.
Already a quantitative analyst at Standard Chartered Bank in Singapore, Rajeev R. Sharan, a 2012 graduate of the financial engineering program with a masters in economics from a top Indian university, wanted a program that would give him a better understanding of finance and the higher-level calculus needed for risk management jobs. He also wanted to learn about buy-side firms and avoid the lengthy two-year MBA programs. The Anderson program fit the bill.
"Top business school financial engineering programs are better, because they equip you with a more holistic perspective," says Sharan, who is director of risk management at the investment management firm Aspiriant in Los Angeles.
Join the discussion on the Bloomberg Businessweek Business School Forum, visit us on Facebook, and follow @BWbschools on Twitter.
Before it's here, it's on the Bloomberg Terminal.
LEARN MORE