The Guys Putting Jet Packs on Commercial Real Estate Brokers
By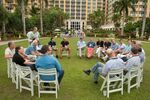 Even in New York, where famous office towers dot the skyline and developers are fixtures in the society pages, commercial real estate makes for dry copy. What can a trade publication do to make the industry more fun, not to mention stand out from competitors? Two words: jet packs.
Mark Bisnow, a former aide to Hubert Humphrey, launched Bisnow Media in 2005 to remake commercial real estate coverage for the Internet age. That meant creating an online newsletter with a colloquial style and covering the personal lives of industry executives.
Most important, Bisnow says, was trusting a pair of millennials with running the business. Today the 80-employee company—motto: "(almost) never boring"—publishes 31 online newsletters for more than 500,000 subscribers. Chief Executive Ryan Begelman says that makes Bisnow Media the most widely read trade publication for the North American commercial real estate industry.
If you've heard of Elliott Bisnow (Mark's son) and Begelman, it's probably as two of the co-founders of Summit Series, a conference series sometimes described as a "hipper Davos." (Twitter's Evan Williams and Zappos's Tony Hsieh are among the A-list entrepreneurs to attend events, and the group famously persuaded Bill Clinton to come to a dinner party at music mogul Russell Simmons's house.)
The younger Bisnow and Begelman were helping run Bisnow Media when Summit Series was launched and soon brought Summit-style events to the commercial real estate industry. That made sense, as Bisnow Media had already identified conferences and networking events as an important part of the company's business model. It was also good timing: The Great Recession had taken a toll on deal-making, and "people had more time on their hands, and they needed to commiserate," Mark Bisnow says.
Bisnow Media has taken a high-volume, light-hearted approach to its conference business. It hosted 250 events in 2012, selling 60,000 tickets at prices that are typically about $70 a pop. That helped the company earn just shy of $11 million in revenue in 2012, says Begelman, and he estimates that will increase 35 percent this year.
Last year the events included two weekend-long "escapes," which cost up to $9,000. Begelman styles them as TED talks for the cream of the commercial real estate industry. That means discussions on subjects other than real estate, such as meditation and martial arts, and bonding activities such as skydiving, race-car driving, and yes: jet packs.
"They're approaching the market in a little bit of a different way," says Robert Knakal, chairman of New York's Massey Knakal Realty Services, who attended a Bisnow Escape earlier this year and chose to play golf instead of the more exotic activities offered. "Their thrust is the social aspect of the industry—helping people build relationships on a personal level, instead of hearing someone speak about interest rates."
Begelman, 30, says "we're finding that the older generation likes the same kinds of things that young people do. It's just a question of making those experiences a little more obtainable."
A recent breakfast event at New York's Marriott Marquis attracted a couple hundred brokers, lawyers, and investors. A harpsichordist was stationed outside the meeting room, and an executive from Google was on hand to speak. The first panel, titled "The Office of the Future," was dominated by a discussion of Manhattan office rents. Not scintillating stuff to an industry outsider, perhaps—but "boring" is a relative term, and the guests seemed to enjoy the talk.