Six Flags Struggles With Cloudy Spring
By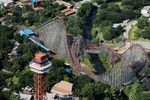 A rainy spring appears to have put a dip in what has otherwise been a steadily climbing time for the U.S. amusement park business this morning.
Six Flags Entertainment, whose stock has quadrupled as theme parks surged over the past five years, posted a disappointing 3 percent dip in revenue and a decline in net of slightly more than one-third, to $47.4 million, in the past quarter. The company said results were dragged down by a soggy spring and a one-time income tax expense. "It's not the quarter we had all wished for," Chief Executive Jim Reid-Anderson said in a conference call.
Executives of the 18-park chain said the announcement of earnings came with "heavy hearts" as the company is investigating the Friday death of a 52-year-old woman on its "Texas Giant" roller coaster in Arlington, Tex.. The ride was closed this morning, and Six Flags declined to comment on whether the accident would keep guests away. "We would be speculating," Reid-Anderson said.
The one bright spot in the report came from advances in pricing. Six Flags, along with its rivals, is showing success with savvier strategies on ticket sales. While the average Six Flags customer spent $39.52 in the recent quarter, a 1 percent increase over the year-earlier period, most of the gains came at ticket counters where the company collected $22.59 per person, a 3 percent jump from a year ago. The company's continued push to sell season passes and membership plans—a strategy to spread revenue over time—boosted deferred revenue by 22 percent, to $130 million.
Theme park sales have been on a steep climb since a recession-induced dip in 2009. Revenue for U.S. parks is expected to break another record this year with a $13.4 billion haul, which would be a 2.8 percent gain over 2012, according to market researcher IBISWorld. The biggest winners in that boost will likely be Walt Disney, Vivendi's Universal Studios, and SeaWorld Entertainment.
Six Flags, however, is hoping to grab more guests with new attractions. It plans to spend 9 percent of its revenue this year on capital projects, according to SEC filings. Among the planned projects: the Texas Skyscreamer, a swing that ships passengers 400 feet in the air—which would be the tallest of the kind. Investors, meanwhile, are hoping for a similar experience.
Before it's here, it's on the Bloomberg Terminal.
LEARN MORE