Aquino Seeks Backing of Congress to Cement Philippines Overhaul
Norman P. Aquino and Joel Guinto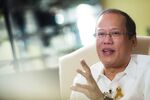 Philippine President Benigno Aquino asked lawmakers to pass measures that will improve governance and bring lasting peace to the nation's south, while touting economic growth that's become the fastest in Asia in the first half of his six-year rule.
Aquino said Congress should amend laws on tax breaks for investors and transportation costs in a bid to increase business competitiveness, without giving details of the changes he's seeking. He vowed to continue his anti-corruption drive and right injustices in a system of administration that he said has long blighted the country.
"Let us not allow this transformation to be temporary," the president said yesterday in his annual state of the nation address that lasted almost two hours. "Let us seize this opportunity to make the change permanent."
Aquino, 53, has overseen an economic resurgence, with first-quarter growth outpacing China, even as he faces pressure to boost job creation and curb corruption before his term ends in 2016. He was this year rewarded with two investment-grade ratings from Standard & Poor's and Fitch Ratings Ltd. Aquino said yesterday that a third "will soon follow."
The president is "on top of his game," Ramon Casiple, executive director of the Institute for Political and Electoral Reform in Manila, said by phone after the speech. "At this point, if he wants a bill passed, nobody will object unless it's really unpopular," he said.
'Ready to Ride'
"From the prudent expenditure of funds to the effective collection of taxes; from infrastructure development to the transparent conduct of business that generates jobs, our message to the world could not be clearer: the Philippines is ready to ride the tides of progress," Aquino said.
The president, who polls show has the support of more than 70 percent of voters, has used his popularity to pass laws for higher taxes on tobacco and liquor and provide free contraceptives to the poor. Rising tax collection will permit a boost to spending on education and social services, he said.
Aquino asked Congress -- where he has a majority -- to reform the pension system for the police, military and other government employees. The state-owned Social Security System has 1.1 trillion pesos ($25.4 billion) in unfunded liabilities, and funds will dry up in 28 years if the system isn't changed soon, he said.
He also asked lawmakers to pass a bill creating a new political entity of Bangsamoro in the nation's south next year so his government will have time to set up the new autonomous Muslim region by 2016. The government and Muslim rebels signed on July 13 a wealth-sharing agreement after eight months of talks, and Aquino said peace is within reach in a region that has long been in conflict.
Mining Income
Aquino criticized the customs and immigration bureaus for lapses that lower government revenue and aid the smuggling of contraband, including drugs.
Congressional leaders from Aquino's party vowed to push for laws to create jobs. "We must ensure that the Philippine story is the story of inclusive and sustainable development, and lasting peace," Franklin Drilon said in a televised speech after his election as president of the 24-member Senate.
Drilon said he'll support bills to trim tax incentives for investments and to relax some foreign-ownership restrictions, while seeking a bigger state share of mining income. The upper house will also aim to fast-track infrastructure investments, he said before the president's speech.
The $250 billion economy expanded 7.8 percent in the first quarter from the previous year, the fastest among the 17 biggest economies in Asia. At the same time the jobless rate climbed to 7.5 percent in April, the highest in three years, according to a report out last month.
Moody's Upgrade
Bangko Sentral ng Pilipinas Governor Amando Tetangco said in June that the country also may be upgraded from the highest junk rating by Moody's Investors Service.
The Philippine Stock Exchange Index rose 0.1 percent at the close in Manila and the peso climbed 0.3 percent against the U.S. dollar.
Aquino said he would ask Congress today to approve a 2.27 trillion-peso budget for 2014 -- 13 percent higher than this year, according Budget Secretary Butch Abad -- so he can continue reforms and quicken the momentum toward "inclusive progress." The government will target about 2 trillion pesos in revenue next year to support record infrastructure spending, Abad said on July 17.
"If the president is as successful in passing crucial legislation in the next three years, the better for the politician he will support in the 2016 elections," Emilio Neri, an economist at Bank of the Philippine Islands in Manila, said. "Continuity after Aquino's term is increasingly becoming a concern among investors."
Before it's here, it's on the Bloomberg Terminal.
LEARN MORE