London Mayor's Radical Plan for Heathrow: Demolish It
By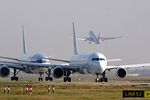 London Mayor Boris Johnson wants to turn Heathrow Airport into a pile of rubble. No, he is not kidding.
Throwing fuel onto a heated debate over the future of Europe's busiest airport, the Conservative mayor has called for an extreme solution: Raze Heathrow, redevelop the land as a residential community, and replace it with a new international air hub some 50 miles away on the other side of London.
Business leaders complain that London is losing its attractiveness as an international destination because the city's airports have not been allowed to expand to meet growing demand. Rivals such as Paris's Charles de Gaulle airport, by contrast, have been growing. The Confederation of British Industry warned recently that Britain was missing out on potential new trade worth billions as it failed to add flights to fast-growing economies worldwide.
Johnson's plan, though, has as much to do with politics as with business. Efforts to expand Heathrow have stalled for years over concerns about noise, pollution, and congestion. Heathrow flight paths take many planes over residential areas in west London represented in Parliament by the Conservative Party. The Conservatives' coalition partners, the Liberal Democrats, fiercely oppose Heathrow expansion as well.
In the business community, it's hard to find anyone who seems enthusiastic about getting rid of Heathrow. Building a new airport at Johnson's preferred site—on the Thames estuary east of London—would take years and would cost, by his estimate, nearly £70 billion (almost $100 billion).
Those numbers "do not stack up well" against estimates by Heathrow's owners, who say they could build a new runway for no more than £18 billion, says the Board of Airline Representatives in the UK, which represents 80 scheduled airlines. Heathrow now has two runways, and adding one more would provide sufficient capacity to meet demand at least until 2040, according to airport officials.
Moreover, Heathrow's passenger rail links to central London make it "far easier to get to" than the proposed Thames estuary sites, the Institute of Directors, a group of British business executives, said in a recent statement.
Questions about Heathrow's future are making headlines again as a government-appointed commission received recommendations last week on alternatives for increasing runway capacity in southeastern England. Prime Minister David Cameron has said that no decision will be made until after elections in 2015.
Now that London's popular mayor has taken a stand, some business groups are opting to remain on the sidelines. "We want expansion," says a spokeswoman for London First, a local business-advocacy group. "London is losing out by not taking any action." But, she says, "We've deliberately stayed out of this."
Before it's here, it's on the Bloomberg Terminal.
LEARN MORE