business
In the Hunt for Jobs, International MBAs Finish Last
Louis Lavelle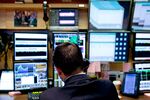 It's no secret that international MBA students have a harder time than their domestic counterparts when it comes to the job hunt. Visa issues and career service teams with less-than-stellar track records placing students with foreign employers are just some of the challenges.
Now we now know just how hard international students have it. Less than half of international MBA students from the class of 2013 managed to land job offers by mid-March, compared with nearly two-thirds of domestic students, according to new data from the Graduate Management Admission Council, which administers the GMAT exam. The findings are based on a survey of 5,331 recent graduates from 159 business schools worldwide.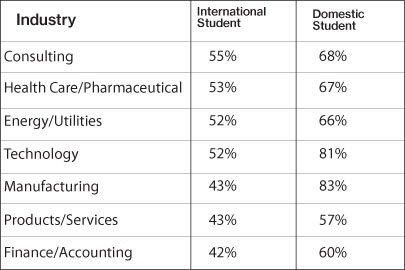 In the U.S., 46 percent of international students in full-time MBA programs had job offers vs. 66 percent of domestic students. In Asia, including China and India, the numbers were 54 percent for international students and 67 percent for domestic. Only in Europe did international students fare better than their domestic counterparts, with 59 percent landing job offers compared with 39 percent for domestic students. Foreign students at European schools who had job offers were more likely seeking jobs in their home country.
The fate of international students in the job hunt depends to a large extent on which industries they're targeting. Internationals did best in consulting, where 55 percent had job offers, and worst in finance and accounting, where 42 percent secured employment. No industry offered anything approaching parity between international and domestic students. International students seeking tech jobs had a 52 percent success rate, compared with 81 percent for domestic students. Manufacturing had an even wider discrepancy, with 43 percent of internationals landing job offers compared with 83 percent for domestics.
It should be noted that the vast majority of MBAs studying outside their country of citizenship—nearly three out of four—say they plan to return to their home country after graduation. The variety of job search scenarios makes it difficult to identify a single overarching reason for the poor performance of international students, but GMAC says visa issues and the logistical difficulty of coordinating a job search from a foreign country could explain a lot of it.
Also, failing to secure a job offer by mid-March doesn't mean an offer won't be forthcoming, particularly at top schools. When Bloomberg Businessweek did an informal survey of the top 25 U.S. full-time MBA programs in December, all 25 had 2012 placement rates for international students of 73 percent or more by three months after graduation, about six months later in the recruiting cycle than the GMAC study. Five schools reported international placement rates of 100 percent.
Join the discussion on the Bloomberg Businessweek Business School Forum, visit us on Facebook, and follow @BWbschools on Twitter.
Before it's here, it's on the Bloomberg Terminal.
LEARN MORE