business
Four Reasons McDonald's Is Worried About the Near Future
By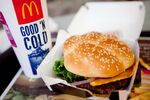 McDonald's warned this morning that the second half of the year will be difficult despite posting a 1 percent increase in global same-store sales for the second quarter. The chain has been trying to attract consumers with less expensive fare, but that strategy isn't likely to overcome totally the global factors that spell trouble in the near future. Among the problems noted in the second-quarter earnings announcement:
Indigestion for Casual-Eating Companies Around the World: What McDonald's calls "the informal eating out market," made up of quick-service restaurants, remains challenging. It contracted in seven of McDonald's 11 top markets, yet Chief Executive Don Thompson noted that the megachain is gaining market share even as sales shrink—so in that way, he said, it is "winning."
Under Cost Pressure: Affordability remains important to consumers, and competitors have been discounting items, but higher labor and commodity costs are shrinking margins and giving the company "less ability to take price, cost pressures." In the U.S., for instance, the McDonald's strategy calls for maintaining the value proposition; the Dollar Menu still accounts for about 13 percent to 14 percent of sales. But the chain is also developing premium menu items "to provide customers with even more variety and choices across day parts and price points," says Thompson. The company, executives said, is willing to consider future price increases in the U.S.
Fast-Food Appetites Are Shifting: American tastes are changing, and McDonald's faces a lot of competition from fast-casual rivals such as Chipotle Mexican Grill and Panera Bread as it tries to figure things out. According to researcher Technomic, quick-service restaurant sales in the U.S. grew 4.6 percent in 2012, compared with 13.2 percent in the fast-casual segment, which is also adding stores at a faster rate. McDonald's termed this issue "heightened competitive activity," and it goes beyond the U.S. In other countries, the company noted a rise in "nontraditional competitors," such as cafes, convenience stores, bakeries, and ready-to-eat supermarket meals. To update its menu, the chain introduced new chicken and beef items (such as the McWrap, subject of recent Businessweek cover story), new blueberry-pomegranate smoothies and other beverages, and an enhanced breakfast program. Some of the tinkering is as much about cosmetics as cuisine: Half of McDonald's restaurant exteriors and about 60 percent of its interiors around the world will undergo renovations "reflecting the current contemporary look," said Chief Financial Officer Peter Bensen.
The European Economy Is Bad for Burgers: This is an important admission of weakness from the McDonald's earnings report today: "Economic uncertainty is pressuring consumer spending." The distressed region accounts for more than one-third of operating income and half of company-operated margins, so if Europe continues to cut back on burgers, McDonald's will have a near-term issue. Europe's comparable sales were down just 0.1 percent last quarter from a year ago, due to negative results in Germany and France, and McDonald's traffic in Germany has contracted faster than the rest of the fast-food industry there. The European bright spots for McDonald's came in the U.K. and Russia. While some economists expect a European recovery by late 2013, Thompson warned that from his perspective, such projections "may be a bit ahead of themselves."
Before it's here, it's on the Bloomberg Terminal.
LEARN MORE