business
Chipotle Adds Tofu to America's Fast-Food Arsenal
By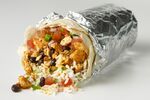 It was Benjamin Franklin who apparently helped introduce tofu to the U.S. According to the Soyfoods Association of North America, Franklin wrote in a Jan. 11, 1770, letter from London:
"My ever dear Friend: I send Chinese Garavances. Cheese [is] made of them, in China, which so excited my curiosity. Some runnings of salt (I suppose runnet) is put into water, when the meal is in it, to turn to curds. These … are what the Tau-fu is made of."
A garavance is a chickpea, and Franklin was talking about soybeans. More than 200 years later, Americans no longer think of the tofu made from soybeans as a kind of cheese. Yet it remains a niche ingredient in the U.S. So it's something of milestone when a major fast-food chain such as Chipotle puts tofu on its menu. By the end of this month, the company said, Chipotle restaurants throughout the West Coast will offer a tofu option, called "Sofritas," for burritos, tacos, burrito bowls, and salads.
Chipotle's Mexican grill started testing Sofritas, or "shredded tofu braised with chipotle chilis, roasted poblanos, and a blend of aromatic spices," in seven Bay Area restaurants in February. The organic tofu, which isn't genetically modified, is made by California's Hodo Soy, and one reviewer compared the taste to scrambled eggs in "a tomatoey rancheros-like sauce." Chipotle expanded the tofu experiment to all of California, and Sofritas now account for 4 percent to 5 percent of sales in the state.
"We're expanding the Sofritas test to include our restaurants in the Pacific Northwest this month, and we're considering additional markets this fall, when we expect additional supply to become available of our tofu," Steve Ells, Chipotle founder and co-chief executive officer, said during a recent earnings call.
The success of fast-food tofu in health-conscious California seems plausible, but how it will be received in other regions of America remains an open question. Tofu sales in 2011 were $255 million, down from $258 million in 2008, according to data from Soyatech.
Still, Chipotle expects Sofritas to be popular in other states. Jack Hartung, chief financial officer, raised the possibility of attracting "more people who might not have thought about eating at fast-food restaurants who might be vegan, or vegetarian, or just health-conscious in general" to try the new items.
The company is encouraged that some diners who typically eat meat are trying the tofu, which means the market isn't limited to herbivores. "This isn't your typical tofu dish," spokeswoman Danielle Winslow said in an e-mail. The idea, she added, is to create tofu dishes that "would be good enough to have crossover appeal as well."
Before it's here, it's on the Bloomberg Terminal.
LEARN MORE