Bright Horizons Goes on a Day Care Buying Spree
by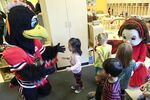 Parents don't think of it this way, but children's day care is an industry ripe for consolidation. And Bright Horizons Family Solutions has been on something of a tear this year.
The nation's only publicly traded provider of employer-sponsored day care announced its second major acquisition in three months on Monday, spending $53 million for Children's Choice Learning Centers, a Dallas-based rival that runs 49 centers for employers including MGM Resorts International, Wake Forest University, and the federal government. In April the company paid about $70 million for Kidsunlimited, which has 64 centers in England and Scotland. Last year, Bright Horizons, then closely held, bought London's Casterbridge Nurseries, which operates 27 centers. Bright Horizons also has locations in Canada, Ireland, the Netherlands, and India, with more than 800 total.
That's a lot for a single day care provider, but peanuts compared with the market. There are more than 64,000 child-care centers in the U.S. alone, most of which are small businesses with a handful of locations at most. That may be changing, as the Affordable Care Act will compel some of these family-run day cares to provide health insurance for their workers. Bright Horizons hopes that, rather than absorb the higher costs, they will sell. To that end, the company has set up a dedicated
e-mail address for day care owners to contact Bright Horizons about a sale. (Full disclosure: The company provides child-care services to Bloomberg LP, the parent company of Bloomberg Businessweek; I'm a dad.)
"It's almost like fishing in an aquarium," Jefferies analyst Dan Dolev says of potential acquisitions. "It's very easy to find these smaller guys." In its latest earnings report, Watertown (Mass.)-based Bright Horizons forecast revenue to increase 10 percent to 13 percent this year, driven heavily by acquisitions. Dolev predicts that roughly a third of the company's 2013 sales growth will come from M&A.
That seems to be working so far. Bright Horizons went public in January, four years after private equity firm Bain Capital took it private in a leveraged buyout. Shares have gained 25 percent since the IPO price of $22, to $35.
Even so, the business carries inherent risks—it's highly dependent on the state of the economy and how many employers choose to fund such care; it's seasonal and summer is slow; and it carries all the liability involved with watching someone's child. Bright Horizons also struggles with enrollment, at around 70 percent capacity, below what it enjoyed before the 2008 financial crisis and recession. Moreover, if President Barack Obama succeeds in expanding federal funding of early childhood education, as he outlined in the 2013 State of the Union, that could both depress the rates Bright Horizons charges and give parents new, less-expensive alternatives.
The company tends to benefit from a "seal of approval" effect. Large companies that contract with Bright Horizons serve as a certification of sorts for other employers seeking to add child-care benefits, according to Rachel Connelly, a Bowdoin economics professor who studies the economics of child care. Connelly spoke to investors on a Jefferies call earlier this month.
"This is a pretty sticky business model," Dolev says. "Trust is important. This is where you really get to what the word 'trust' means—when you manage kids' lives." Investors, for their part, will be trusting that Bright Horizons can continue finding a steady stream of suitable day care centers to purchase.
Before it's here, it's on the Bloomberg Terminal.
LEARN MORE