A 'Butler' by Any Other Name: How the Weinsteins Beat Warner Bros.
By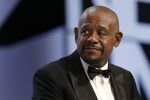 The Butler is back—well, sort of. The Motion Picture Association of America (MPAA) has decided that the Weinstein Co.'s upcoming Lee Daniels-directed movie The Butler, which shared a title with a Warner Bros. silent film from 1916, needs a new name. After a public tussle between the Hollywood heavyweights, the film will officially be called Lee Daniels' The Butler.
The decision follows the MPAA's original ruling, which said that the Weinstein Co. couldn't use The Butler in its title at all. But the film company hired attorney David Boies and appealed. The Weinsteins then launched a major publicity campaign, securing high-profile endorsements from the NAACP and Jesse Jackson to support its cause. The film, starring Forest Whitaker, David Oyelowo, and Oprah Winfrey, is based on the story of Eugene Allen, an African-American who worked as a butler in the White House under eight presidents during the civil rights era. The MPAA agreed to the Weinsteins' appeal. So far, Warner Bros. hasn't commented.
The MPAA's Title Registration Bureau, which regulates the use of film titles, also specified that the director's name must be no smaller than 75 percent of the rest of the title. The Weinstein Co. also must pay $650,000 in fines and legal fees for using the name The Butler even after it was originally told not to on July 2.
The Weinstein Co. will have to reissue press materials and posters for its newly renamed film by July 26 or face more fines. But those penalties notwithstanding, it would appear to be a victory for the Weinsteins. Despite the name change, there's nothing Warner Bros. can do about the fact that audiences probably won't use the new name. Everyone's still going to call it The Butler.
Before it's here, it's on the Bloomberg Terminal.
LEARN MORE