When One Fund Is All You Need
by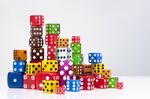 Many investors put more thought into coordinating their home decor or wardrobe than in understanding how their investments fit together. We pick up investments here and there, sometimes on a whim, sometimes from an inheritance, and wind up with the design equivalent of our first apartment after college. It's not that we don't recognize the importance of a well-designed portfolio. It's just that creating it is an abstract and high-stakes exercise, one that many of us don't feel qualified to perform.
Large investment firms are increasingly marketing a solution to this dilemma. Rather than sell portfolios fund by fund, firms are whipping up whole portfolios customized to someone with just our needs. While these all-in-one products have been around for some time -- "target-date funds" are almost 20 years old -- they're taking a larger and larger chunk of investor money. Assets in the category Boston Consulting Group calls "solutions" jumped 92 percent from 2008 to 2012, to $2.5 trillion, it reports . Much of the growth is due to the inclusion of target-date funds as the default option in many U.S. 401(k) and other retirement plans. Assets in U.S. target-date funds could go from $400 billion to $1 trillion in the next four years, according to BCG.
While calling this category "solutions" may sound more than a little self-congratulatory, the idea is to give customers one simple-to-understand product to meet their needs, even though funds are quite complex on the inside, says Morningstar senior fund analyst Josh Charlson.
Retiring in 25 years? You may be a candidate for a target-date fund like the Fidelity Freedom Fund 2040 with its pre-made mix of 61 percent U.S. stocks, 22 percent international stocks and 18 percent bonds. That said, managing this mix of assets successfully is not always as easy and painless as investors might hope or expect. Wildly varying returns for target-date funds in 2008's market turmoil sparked scrutiny of their marketing and disclosure practices.
One big supporter of solutions is (unsurprisingly) Jason Hsu, co-founder and chief investment officer at Research Affiliates . Hsu's company runs one of the largest, high-profile "solutions" funds, the $33-billion PIMCO All-Asset Fund . It's a fund with a shifting blend of bonds and stocks from around the world, along with inflation hedges and alternative strategies. Hsu says one advantage of funds like his is that big solution providers can use their size to keep fees lower.

Morningstar's Charlson says there is intense competition to have the lowest fees, at least in the world of U.S. target-date funds. Their average asset-weighted expense ratio dropped 12 percent last year, and is now 0.91 percentage points.
Still, the use of complicated alternative strategies can bring higher costs. More target-date funds are adding real estate, commodities and other alternatives to their portfolios, Charlson says. They also boosted international exposure by half since 2005, to 36 percent of the average 2040 fund's stock allocation.
PIMCO's All-Asset Fund has an expense ratio ranging from 0.88 percent to 2.13 percent, depending on the share class. Hsu insists the inclusion of alternatives in a solution is necessary despite their costs. Too many do-it-yourself investors are exposed only to stocks and bonds and not other options like commodities, he says. These alternative strategies are complex and tricky for non-experts, so it makes sense to turn the task over to solutions providers, Hsu says: "That's safer for investors and better than figuring it out yourself."
Expect more innovation as firms fiercely compete to get a share of the trillions of dollars flowing these products. With so many new strategies with short track records, it could be years before we know whether they really do solve anything.
This essay originally appeared in Bloomberg.com's weekly personal finance newsletter, Wealth Watch. Sign up here .
Before it's here, it's on the Bloomberg Terminal.
LEARN MORE