business
Washington Post Enters the Furnace Industry
By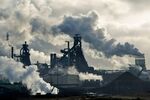 Washington Post Co. was built on 47 Pulitzer Prizes and an investigation that took down a U.S. president. Now its employees will also be focused on selling industrial parts to Chinese power plants.
Whatever it takes to pay the bills, right?
In what may be the most brazen diversification play in media, the company this week said it's purchasing Forney, a Texas-based company that makes burners and flame detectors for industrial furnaces. Safe to say, Forney will never win a Pulitzer. Washington Post declined to comment beyond its press release.
It's not strange for a newspaper company to dabble in other areas, but the acquisitions usually have some link to their seminal strengths: information gathering, consumer data collections, printing capabilities, and distribution. Historically, TV stations have been a popular move, as have sports teams, timberlands, and paper mills. More recently, job advice platforms like CareerBuilder—a joint venture of Gannett, McClatchy and Tribune Co.—have been in vogue, as have marketing consultancies such as Social Code, a Washington Post business that helps companies craft social media strategies.
Some media companies, including New York Times Co., have sold off ancillary businesses to focus on their so-called core competencies. Others, however, seem to be drifting further afield. In 2011, Gannett bought Nutrition Dimension, which provides educational content and certification programs for trainers and fitness professionals. That same year, News Corp. introduced Amplify, a mobile education platform aimed at teachers.
Washington Post, which gets almost 60 percent of its revenue from its Kaplan education and test-prep business, is also pushing the bounds of its business model. Last year it bought a majority share of Celtic Healthcare, a provider of in-home care. And earlier this month it announced an undisclosed stake in FaithStreet, a Web platform that helps churches expand their congregations and contributions.
Brad Sanfalow, founder of PAA Research, told the Wall Street Journal that the Forney deal was an "indictment of [Washington Post's] current asset base."
In the company's statement, Chief Executive Officer Donald Graham said Washington Post is pursuing a "decentralized operating philosophy."
Given the relatively sorry state of print media, "decentralized" isn't necessarily a bad thing. But buying businesses with little connection to incumbent operations is more akin to investing—stockpicking—than building a business. It might work well for Berkshire Hathaway and private equity giants like Carlyle Group, but those companies have spent decades hiring stables full of turnaround specialists and experts at finding undervalued properties. When it comes to simply buying a winner—regardless of the business—Washington Post shareholders can do that just as easily on their own.
Before it's here, it's on the Bloomberg Terminal.
LEARN MORE