On Track for a 'Normal' Job Market by Summer 2015
By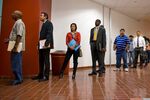 If the U.S. job market keeps improving at its current pace, it will be back to normal by the summer of 2015, according to research by two economists at the Federal Reserve Bank of Kansas City.
Craig Hakkio and Jonathan Willis distilled 23 measures of the labor market into two indicators: the strength of the market and the speed of improvement. Right now the strength remains low, but the speed is above average. In other words, the U.S. is climbing quickly out of a deep hole.
Over the past 20 years, the economists found (PDF), the economy was stronger than it is now 79 percent of the time. But it grew faster than it's growing now during only 14 percent of that period.
If this rate of improvement continues, the economy will be back to normal—i.e., its 20-year average—sometime between June 2015 and September 2015, Hakkio and Willis say. Of course, that's a big "if." They don't claim to know what the future holds.
Before it's here, it's on the Bloomberg Terminal.
LEARN MORE