business
Microsoft Craters on the Surface
By
Microsoft Craters on the Surface
By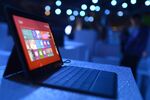 Microsoft's recent wave of promotions and deep discounts for its Surface RT tablet, the company's first big push into hardware, led to speculation that it was close to releasing a new version. Turns out the reason was even simpler: Nobody's buying the thing.
In its exceptionally bleak earnings report yesterday, Microsoft took a stunning $900 million writedown on inventory for the Surface RT, which launched in October, starting at $500 ($600 for double the storage capacity). On Sunday, the company knocked $150 off both models; Mark Hachman's back-of-the-envelope math ballparks the unsold inventory at 6 million tablets, compared with maybe 1.8 million sold. This is after a June promotion that offered the device to schools and universities for as much as 60 percent off.
That doesn't bode well for future iterations of the Surface, or for Microsoft's plans to move further into the hardware market. Chief Executive Officer Steve Ballmer's prepared earnings statement made reference to new Windows 8.1 tablets and PCs among the "compelling new devices" Microsoft has planned. While the Surface has scored some decent reviews and the price cut can't hurt, it's unclear how the company plans to compel people.
For now, Microsoft is still relying heavily on its PC software and enterprise businesses. They helped push the company's revenue up 10 percent to $19.9 billion, though it fell well short of analyst estimates. On last night's earnings call, CFO Amy Hood was asked when she expects Microsoft's tablets to compensate for the contracting consumer PC market. Points for honesty: "It will take a long time for that to happen," she said.