business
JetBlue's Hot Weather Promotion Proves Too Hot for the Airline
By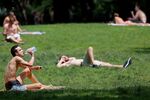 This is a hot story—and a marketer's dilemma: Use Mother Nature in a promotion and you might get burned. As the East Coast endured a blistering heat wave this week, JetBlue Airways offered a deal for up to 90 percent off round-trip fares from New York airports when the temperature hit 90 by noon in Central Park. The problem? The sweltering weather—and the deep discount—got too many people hot and bothered.
On Thursday, when the temperature hit 97 degrees in Manhattan, JetBlue ended the offer.
"Our systems just weren't able to manage the volume of New Yorkers looking to beat the heat," the airline said in a statement late Thursday. Instead—"to prove we're not full of hot air and to make sure everyone lands a hot deal"—the airline is offering 25 percent discounts for tickets booked by 4 p.m. today from New York's LaGuardia and JFK airports and Newark Liberty. The offer is for flights Sept. 3 to Oct. 31.
The New York-based airline has gained a measure of buzz in media circles for its social media marketing efforts, including quick gimmicks like the weather promotion that can help move unsold seats. Financially, even with seats sold at a 90 percent discount, the promotion likely cost JetBlue little since it chose the dates and markets on offer and limited the number of seats involved.
"When your idea of cooling off is walking under an AC unit that's dripping water, you could use a vacation," JetBlue's manager of meteorology, Tom Lloyd, said in a July 16 press release announcing the deal. New York-area residents apparently agreed.
Before it's here, it's on the Bloomberg Terminal.
LEARN MORE