Cohen Accusations Cap Another Limp Quarter for Hedge Funds
by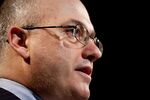 The Securities and Exchange Commission is seeking to bar hedge fund manager Steven Cohen from overseeing investors' funds, the agency announced today, as it accused the billionaire of failing to supervise employees who face insider trading charges. A spokesman for Cohen said the SEC's "administrative proceeding has no merit" and Cohen "will fight this charge vigorously."
The long-anticipated lawsuit—Cohen's $15 billion firm, SAC Capital, has been under siege by federal investigators for months—comes as a spate of reports show that hedge funds overall had a bad month to cap a lousy quarter. There's nothing but bad news for the industry.
Hedge funds lost about 1.5 percent in June to match the decline in the Standard & Poor's 500-stock index. For the quarter, hedge fund performance was roughly flat, while the S&P picked up 2.8 percent. In other words: Hedge fund clients are paying through the nose in fees to experience the same losses as Main Street investors, and missing out on their gains.
As Bloomberg Businessweek subtly pointed out on its July 15 cover, there is an enormous gap between the mighty perception of hedge funds and the reality of their piddling performance. "As their returns have fallen, the biggest hedge funds have started to seem more like glorified mutual funds for the wealthy, and those rich folks might start to take a harder look at whether they're getting their money's worth," Sheelah Kolhatkar wrote. Kolhatkar also wrote in depth about the SEC's dogged pursuit of Cohen, and his firm's pursuit of "black edge," in a January feature story. Cohen is not the only fund manager in trouble with the government: another billionaire manager in hot water, Phil Falcone, reportedly had his proposed settlement with the SEC rejected today for being too lenient. Meanwhile, some big-name hedgies like George Soros and James Simons have left or stepped back from the game entirely in recent years.
Investors pulled $10.1 billion from hedge funds in June, according to eVestment, roughly canceling out inflows for the first months of the year. That makes for the industry's second-slowest first half in a decade, after the panicked start to 2009. Losses pushed the industry's assets under management down nearly $70 billion, to $2.656 trillion. Another financial data company, Eurekahedge, tracks a smaller hedge fund universe of $1.89 trillion and puts the June decline at $21 billion.
An outlier report from Hedge Fund Research emphasized more favorable figures—inflows of $14.5 billion in the second quarter. The company now tracks 10,009 hedge funds and funds-of-funds, up from 9,810 at the end of 2012, putting the birth of the 10,000th on or around June 21. Whoever is investing in it must not be paying attention to the news.
Before it's here, it's on the Bloomberg Terminal.
LEARN MORE