A Ticklish Challenge: Selling Detroit After Bankruptcy
by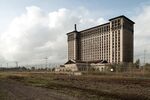 Detroit is on the move! Detroit is attracting hip young people! Detroit is a beacon for venture capital! And oh, by the way, Detroit just became the largest U.S. city ever to file for protection from creditors under federal bankruptcy law.
A Chapter 9 filing might seem like the very worst kind of publicity for a city. But Detroit boosters are arguing that it's actually a positive.
"it's an important and necessary step" that will allow the city to shed debt and reduce costs, says Josh Linkner, chief executive officer and managing partner of Detroit Venture Partners, a $50 million fund that specializes in mobile and Internet software. "When GM and Chrysler filed for bankruptcy, a lot of people were very upset. Now both those companies are thriving. Detroit will do the same thing."
Michael Finney, president and chief executive of Michigan Economic Development Corp., visited Bloomberg Businessweek in New York on July 10 to talk up Detroit's potential. Although Detroit can no longer issue its own bonds, Finney's organization—a partnership of the state government and private sector—is raising money on the city's behalf. He was accompanied by Jake Cohen, who works with Linkner at Detroit Venture Partners.
A few highlights from their visit:
• Under Governor Rick Snyder, Michigan has reduced business taxes and balanced the state budget. Last December, Snyder signed a right-to-work law, which makes it illegal to require financial support of a union as a condition of employment. It was the 23rd U.S. state to do so. (Unions are challenging the law in court.) That should help the city draw jobs.
• A decade ago, Michigan was one of the two lowest-ranking states for venture capital activity, but it reached 15th in 2012, according to the annual report of the Michigan Venture Capital Association.
• Dan Gilbert, founder and chairman of Quicken Loans, has invested over $1 billion in downtown Detroit and has moved over 9,000 employees of Quicken and related companies into downtown.
• The Detroit-based First Step Fund makes small investments—$10,000 to $50,000—in early-stage startups in Detroit and the rest of southeast Michigan.
• Venture for America, a New York-based program modeled on Teach for America, has placed 25 of its first "venture fellows" in Detroit. The recent grads are supposed to spend two years there helping small companies get started. Organizers hope some of them will stay in Detroit when their tour is done.
• Challenge Detroit, which resembles Venture for America, is trying to reverse the city's brain drain by bringing recent university graduates to Detroit to work and play. They get a stipend for spending eight hours a week, outside their day jobs, to work on projects benefiting the community. "Participate in the revitalization efforts for one of the most significant cities in the world!" the website urges.
The news media are picking up on the bright spots amid Detroit's gloom.
• The New York Times reported on July 16 that Chrysler's Jefferson North factory on Detroit's East Side is "one of the most modern and successful auto plants in the world."
• As reported by Crain's Detroit Business, last month, Detroit's Downtown Development Authority unveiled details of a $650 million Detroit Red Wings arena and entertainment district.
The bankruptcy filing will make it harder for Detroit to raise money in the future. "From this point, Detroit's name in the muni market is probably mud," Dick Larkin, senior vice president and director of credit analysis at HJ Sims & Co., said in a statement.
But Linkner, the venture capitalist, argues that Detroit's boosters can legitimately spin the Chapter 9 filing as a "a very positive thing." Says Linkner: "I don't mean to be insensitive to those who will be hurt, but the idea that we're taking decisive action, cleaning up many of the problems of the past, sends a message that we are serious and committed."
Before it's here, it's on the Bloomberg Terminal.
LEARN MORE