A 'Disruptive' Dean Eyes Technology Changes at Owen
Francesca Di Meglio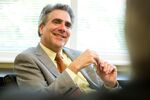 Technology has taken its sweet time, but it is finally disrupting higher education, says Eric Johnson, the new dean of Vanderbilt University's Owen Graduate School of Management. He cites MOOCs, or massive open online courses, as being the real game-changer. "The days of putting 250 students in an auditorium and lecturing Econ 101 are numbered," he says. Having begun his tenure as dean July 1, Johnson recently spoke with Bloomberg Businessweek reporter Francesca Di Meglio about technology as it relates to business schools. Here are edited excerpts of their conversation:
What are some ways you expect technology to "disrupt" the Owen classroom?
The time faculty and students spend together in a physical space is expensive. Students pay to be there. The school pays for the bricks and mortar and the faculty member. Therefore, we need to make the time together more valuable. One way we can do this is to "flip the classroom," which means moving some of the static material and lecturing elsewhere. For example, a faculty member could produce an online video for students to view ahead of class. Once together in the classroom, they can apply what they learned by problem solving or taking on a relevant group project. Having online content also allows students the chance to review material they might find challenging.
How is technology changing the learning process for students?
Technology used to be all about installing expensive equipment that we'd show off to you if you visited us. It was the same in offices. Everyone had the standard employer-issued desktop. Now everyone brings his own iPad, etc. It's all very personal now. It requires students to take ownership of their education in ways they haven't in the past.
For example, if you are among those learning about economies of scale, and you're interested in health care, you can seek out information about economies of scale in the context of health care, while the person sitting next to you is learning about it in the context of air travel. If there are 50 students in the class, there will be 50 different ways to think about economies of scale. With technology, we can personalize the material for them without having the entire class focus on health care or air travel. It changes the way students learn.
What are some of the things you are thinking about as you consider the future of technology at Owen?
I painted a picture of "flipping the classroom." This will change the class length and the way we design classrooms. In today's business schools, you have a bunch of rooms designed around the case-teaching pedagogy. Suddenly, the amphitheater case classroom might be less useful. A flat room that can easily be rearranged could be far more valuable. We're experimenting.
Join the discussion on the Bloomberg Businessweek Business School Forum, visit us on Facebook, and follow @BWbschools on Twitter.
Before it's here, it's on the Bloomberg Terminal.
LEARN MORE