Why VW Is Rolling the Dice on a $70,000 Car, Again
by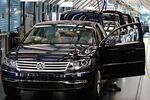 Volkswagen, the "people's car," is considering reintroducing its $70,000-plus Phaeton sedan to the U.S. market. This causes much scoffing.
After all, VW's previous attempt to sell the Phaeton, which lasted only three years in the U.S., was roundly criticized as foolhardy brand extending. Volkswagen may be a German carmaker, but it wasn't one of those German carmakers, the ones people naturally associate with luxury and prestige. Extending a model range from a $17,000 Jetta to a $67,000 Phaeton just didn't make sense. Furthermore, didn't VW already have a luxury brand in the U.S.? Audi has been part of the VW Group since 1966.
It's easy to pick apart VW's decision to bring back the Phaeton, and those criticisms and doubts may prove to be correct in the end. But it's also useful to consider, if just for a moment, that the people who run the world's third-largest automaker are not complete idiots. And if they're not, why would they decide to revisit such an ignominious chapter in recent VW history?
One word may provide an answer to that question: Hyundai. The Korean automaker, which continues to rise in sales rankings, is now doing almost exactly what VW attempted earlier. Hyundai offers everything from a $15,000 Accent to a $67,000 Equus. To be sure, it's not like the Equuses (Equui?) are flying off the lot. In June of this year, Hyundai sold 195 of them, far less than competitors such as BMW's 7-series and Merecedes-Benz's S-Class, of which 855 and 841, respectively, were sold in the same period.
And here's the interesting thing about what Hyundai's up to: Unlike Toyota (owner of Lexus), Nissan (owner of Infiniti), and Honda (owner of Acura), the carmaker didn't create a new sub-brand for its luxury models. Now let's continue to assume that Hyundai, like VW, is also not stupid. Why would they do this? Don't people who want a near-$70,000 sedan want to be separate and apart from the great unwashed who seek a $15,000 compact? Perhaps. But creating a new brand doesn't come cheap. There's a ton of money you have to spend on marketing and advertising just to get the name recognized by the public. Not only that, there are significant costs associated with a separate dealer network (or, at the very least, separate dealer facilities). Being a comparatively young brand, Hyundai may have decided it just wasn't worth it.
There's also a benefit to keeping everything in the family: It reduces intrabrand competition. Take Toyota, with its Avalon full-size sedan that is every bit as good (and maybe even better, by some accounts) than the upmarket Lexus ES 350. Both cars are built on the same platform and share significant numbers of components. But the Avalon's base price is $6,000 less than the Lexus's. With so many similarities and a real difference in price, a savvy consumer may decide to forego the Lexus premium and get the pretty-much-as-good Avalon.
By sticking the Equus at the top of Hyundai's range, things stay linear—there's no overlap. VW may think that the same magic can work for it. VW Chief Executive Martin Winterkorn speaks of the Phaeton as a halo car, noting "we've seen what happens to brands that don't have that kind of project." Back in 2004, when the Phaeton came to the U.S., this strategy may have been too ahead of its time. Almost a decade later, perhaps VW is looking at Hyundai and seeing an opening.
Before it's here, it's on the Bloomberg Terminal.
LEARN MORE