The Math Behind the Senate's New Student Loan Deal
By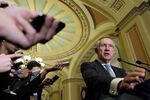 Just one week ago, Senate negotiators thought they'd reached a deal on student loan interest rates that had a shot of pleasing both Democrats and Republicans. Then the Congressional Budget Office estimated the plan would cost an extra $22 billion over a decade, and the bill hit a wall. Now the Senate's tweaked the proposal to reach a deal that the CBO estimates will instead save the government $715 million. Here's how the new plan shakes out:
Both the old and new deals tie interest rates to the market rather than setting them at one fixed level, as is currently the case. (The rate is locked in each summer and remains constant over the life the loan.) For undergrads, the biggest difference is that the new deal raises the premium they must pay over the government's 10-year borrowing costs from 1.8 percentage points to 2.05 percentage points. But the cap on how high the rates could go remains the same at 8.25 percent. So in periods of low rates—like now—students will pay more under the new plan, but it also means students will hit the cap more quickly as interest rates rise. (For loans issued this year the rate would be 3.86 percent, vs. 3.61 percent in the old plan.)
It was a clever political calculation to charge students a bit more now but fight to keep the cap in place. (Democrats have insisted on the cap as a compromise for moving toward market rates.) The budget numbers work out in the new bill because under the CBO's base-line estimates, the government's borrowing costs won't be high enough in the next decade for the cap to kick in.
Senate Majority Leader Harry Reid said this morning that the Senate could vote on the bill as early as today with the hopes of getting it to President Obama to sign before Congress's August recess.
Before it's here, it's on the Bloomberg Terminal.
LEARN MORE