The Irish Bookies' Guide to Picking the Next Fed Chairman
By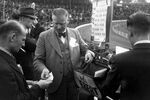 In Washington, speculation about who will be the next Fed chairman is heating up along with the weather.
As Bloomberg's Hans Nichols reported recently, Larry Summers is making a big behind-the-scenes push for the job. (Being passed over the last time the job came open is one reason Summers left the Obama administration.) But Summers and his volatile temper are not necessarily the favorite. Janet Yellen's name comes up often. A veteran Fed official told me that the job is Tim Geithner's for the asking. Prefer a dark horse? Elizabeth Warren told Bloomberg TV that Paul Volcker deserves another term.
So where should market-watchers turn to sort all this out? Ireland. Specifically, Irish bookies such as Paddypower.com, which is currently laying odds on who will succeed Ben Bernanke. Now the idea that a bunch of European punters have some special insight into President Obama's thinking on the Fed and monetary policy is an affront to any Washington insider, especially since the real action on the site appears to be betting on the name of Princess Kate's royal baby (if, God forbid, it's "Rupert," some bettors will get very rich).
But it's foolish to discount the wisdom of the crowd. And Paddypower, believe it or not, has a sterling record of identifying the next person to lead the Fed. Back in 2005, when the job last came open, at right around this point in the selection process Paddypower offered odds on Alan Greenspan's successor. At the time, Glenn Hubbard and Martin Feldstein were both popular choices for President Bush's selection. But Paddypower had Bernanke as the overwhelming favorite at 5-4, and we all know how that ended.
The Irish evidently don't share Larry Summers's faith in Larry Summers. Paddypower's latest odds have him slipping to third, beyond the rarely mentioned Roger Ferguson. Bettors also seem convinced by Geithner's claim that he won't take the job: He's a long shot to be selected and confirmed. The strong favorite is Yellen. But the one guy in a position to make a mint here—by, say, taking 1000-1 odds on Nassim Nicholas Taleb—probably isn't going to bother. President Obama has better things to do.
Before it's here, it's on the Bloomberg Terminal.
LEARN MORE