Send Yoenis Cespedes Back to Cuba
by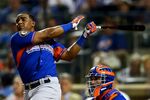 In a report Thursday on NPR about how Sen. Ted Cruz's (R-TX) father shaped his vision on immigration, his father, Rafael Bienvenido Cruz, an immigrant from Cuba, said that while he "came to this country legally," he basically bribed an official to get to the United States. "A friend of the family—a lawyer friend of my father—basically bribed a Batista official to stamp my passport with an exit permit," the elder Cruz said.
—Sen. Ted Cruz's Dad Was a Crooked Law Breaker…, Daily Kos, June 10, 2013.
He put a dent in a truck that was hanging out 455 seemingly safe feet from home plate…"Before I came, they asked me if I was going to be nervous because I would be participating in front of possibly 50,000 people," Cespedes said. "But when I was in Cuba, I participated in five Home Run Derbies. It wasn't 50,000 people, but it was 30,000 or 32,000. And I wasn't nervous."
—Jayson Stark, Cespedes Steps Up to National Stage, ESPN.com, July 15, 2013.
I remember the bright fluorescent lights, the hard wooden benches, and the heat. I remember the Spanish voices in the distance. It was a late, late 1970-whatever summer night at the Mexican border, and I was nervous. No, I was scared to death.
I was so naive, so White-and-Anglo-Saxon-Protestant that a nameless family member kept me distant as she bribed the border guards to let the bundle of Keene across the border. (Nameless's previous felony was not completing her eighth-grade summer reading list on the way to valedictorian of a perfect and green-lawn suburb near you.)
I am unsure if she used pesos or dollars.
I bring this up in exhaustion as we again debate what portion of America will be card-carrying members of the General Society of Mayflower Descendants.
The slightly liberal Daily Kos goes after the slightly conservative Ted Cruz. The Gang of 8 staggers in the Washington heat as all avoid real immigration debate.
All of this as the defector from Cuba, he of the Athletics, doesn't break a sweat launching baseballs over the Chevy-to-the-levee.
One of these heat-wave days, I'm determined to keep track of all the "border-crossing low-lifes" that get me through the day. (Start with the girl from Taiwan three chairs down, move to the Palestinian from Texas two rows back, and end with the lass from Ireland known as Vonnie Quinn.)
As I write this, a woman from China sits next to me with a friend. She loves colleague Kathleen Hays and Vonnie Quinn and listens each day on Bloomberg Radio+ in America, in China.
I believe most of America understands the value of the marginal immigrant to our future. There is a vocal minority who see it differently.
Send the Kathleen Hays fan back to China and the other one back to Taiwan. Send the SMU grad back to the Gaza Strip. Buy Vonnie a one-way Air Lingus ticket. Send Rafael Bienvenido Cruz back to Havana. His son can go through Montreal to visit him. Ship the bundle-of-Keene DHL to Monterrey. And Home Run Derby stud? Send Yoenis Cespedes back to Cuba. Discuss.
Before it's here, it's on the Bloomberg Terminal.
LEARN MORE