pursuits
Network TV's Emmy-Losing Dramas Aren't a Problem for Viewers
By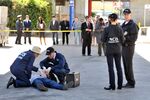 This year's Emmy nominations say two things about television: Netflix has become a major player, and the broadcast networks are only good at comedy. While NBC's 30 Rock and ABC's Modern Family are still expected to dominate the Outstanding Comedy Series category, this is the second year in a row that all four networks—ABC, CBS, NBC, and Fox—were passed over for Outstanding Drama Series. In fact, they haven't won for drama since 2006, when Fox's 24 took home the Emmy.
Mad Men may be a critical wunderkind—it picked up 12 Emmy nominations this year—but this past season the show averaged just 2.5 million viewers per episode. Compare that with ABC's Nashville, which got only two nominations (one for original music and one for Connie Britton as Outstanding Lead Actress in a Drama Series) yet commands more than twice the audience of Mad Men, at 5.94 million per episode. Beating them all is CBS's police drama NCIS, which has never won an Emmy and is generally maligned by critics while averaging 21.3 million viewers—a number rivaled only by Sunday Night Football.
These scripted shoes are expensive, running as much as $3 million per hour-long episode. Advertisers don't care who has the most Emmy nominations, they just flock to the programs with the biggest audiences. Cable networks can offset their smaller advertising revenue with subscription fees, but broadcast TV doesn't have that option. That's why shows like NCIS are so important to them. In 2009, for example, CBS sold NCIS's rerun rights to USA Network for $2.35 million per episode. During a media event at the time, CBS Chief Executive Officer Les Moonves praised the sale as proof that his "model isn't broken."
So which would you rather air? The critically adored network with fistfuls of awards but a tiny audience, or the big broadcast giant with the television equivalent of forgettable pop songs with absolutely no artistic cred?
Maybe the best thing about today's shifting television landscape is that networks no longer have to make that choice. While critically lauded, poorly watched shows were once canceled prematurely, they can now thrive on cable—and, as of this year, on Netflix.
Before it's here, it's on the Bloomberg Terminal.
LEARN MORE