KFC Tests a More Ambitious Chicken Restaurant
By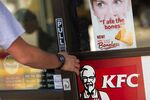 On Aug. 5 a renovated KFC restaurant near the chain's Louisville headquarters will reopen as a "fast casual test store" called KFC eleven. That's "eleven" as in the number of spices ostensibly in KFC's Original Recipe, and lowercase as in, hey, it's working for adidas. With the new venture, the company says it is testing ways to "transform how people think about the brand," according to a KFC eleven job ad posted in June. A second location is planned for the fall, with more under consideration.
KFC seems to have its eye on the expanding fast-casual category—think Chipotle Mexican Grill, Panera Bread, Panda Express—a segment that grew 13.2 percent last year, reported USA Today. For KFC, that would be an upgrade. Its same-store sales in the U.S. increased 3 percent in 2012, according to an earnings report. That's not out of line with other fast-food chains: McDonald's comparable sales increased 3.3 percent in the U.S., and Burger King's were up 3.5 percent in the U.S. and Canada.
Here's what KFC is planning for its new restaurant:
1. More than fried chicken and slaw. In addition to chicken bites and original recipe chicken, KFC eleven will also offer such flavors as "southwestern baja" and "sweet orange ginger" for chicken flatbread rolls, chicken sandwiches, chicken salads, and chicken rice bowls. Thirsty? There are mango-pineapple smoothies and pomegrante-acai lemonade.

2. Food will be prepared in front of customers. Less like Benihana, more like Chipotle. The point, says spokesman Rick Maynard, is to highlight the quality of ingredients. It also means no table service. KFC is not going to Olive Garden extremes. Yet.
3. Managers with restaurant experience. In a job posting, KFC eleven said it is looking to hire people with "fast casual, full service or fine dining experience."
4. Contemporary décor. Relative to a typical KFC, that is. The new restaurant uses earth tones (instead of red and white) and such materials as wood and brick. The company describes it as a "relaxed atmosphere."
5. No bearded colonel. Colonel Sanders died in 1980. As iconic as his image has become, a new logo could freshen up the 61-year-old brand. KFC eleven thinks a silhouette of a chicken is the way to go.
Bottom line: No chicken roulade, but aiming for diners looking for something more refined than the Double Down.