Hermès Pulls Ahead in the Race for the Rich
by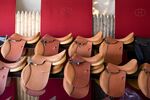 The economic headwinds hampering lesser consumers don't seem to apply to those in the market for an $8,000 polo saddle, a fact made evident yet again in second-quarter results announced Thursday by Hermès.
The Paris-based luxury retailer posted a 13 percent increase in revenue—$1.2 billion in all—as shoppers snapped up its spendy wares all over the globe. The gain would have been 17 percent if Hermès hadn't faced a weakening yen and some other unfavorable currency shifts. Most notably, the company booked almost a 15 percent surge in European sales, a region where carmakers and other consumer companies have struggled to win business of late. Apparently Europe's unemployed—currently at record highs—never did much shopping for $1,400 iPad cases.
Hermès fashion accessories, including belts, gloves, and shoes, were particularly hot this quarter, and perfumes, jewelry, and those famous silk scarves posted big gains as well. Even its leather unit, which includes swanky saddles, saw a 7 percent increase in sales.
Hermès said it expects to post revenue gains of more than 10 percent for the full year and expand profit margins close to record highs. Those margins—more than 20 percent at the moment—are why Hermès has a far more opulent stock-market value than such rivals as Burberry and LVMH. It's also why LVMH quietly bought 23 percent of Hermès in recent months. If you can't beat them ….
Before it's here, it's on the Bloomberg Terminal.
LEARN MORE