Fox Sports 1's Strategy vs. ESPN: 'Jockularity'
Rupert Murdoch's Fox Sports 1 has a strategy for dethroning ESPN: fewer stats, more schtick. Are you ready for some Regis?
Karl Taro Greenfeld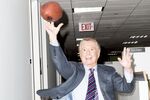 Since ESPN launched the first 24-hour sports channel three decades ago, it has owned the cable sports business, free from serious competition. ESPN generates $9 billion a year for its parent company, Walt Disney, and it's been so profitable for so long that it's astonishing no rival has emerged. Various media companies have tried: Time Warner with CNNSI in 1996, and more recently Comcast with the NBC Sports Network. Neither became must-visit destinations because neither had enough must-see programming. It's as if we've been living in a world with Coke but no Pepsi, McDonald's but no Burger King, the New York Yankees with no Boston Red Sox.