Expand Globally, Innovate Locally
Soumitra Dutta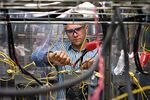 Innovation has become more global and more dispersed than ever before. This trend will continue because emerging markets have not experienced the same R&D declines during our latest period of economic stress but have actually increased investment in R&D by wider margins than high-income countries.
What does this imply for global businesses? Senior managers considering global expansion should evaluate the local innovation scene to see if the dynamics are there to act as a petri dish for growth on an international scale.
Managers need to identify and measure the specific strengths and weaknesses of local industries and research institutions as well as access to finance and markets within and outside national borders, including the ability to move from ideas to new markets. These are unique to every region.
Research published by Johnson at Cornell University, INSEAD, and the World Intellectual Property Organization in the 2013 Global Innovation Index shows that innovation can benefit from local strengths in different parts of the world. It also shows us that commercial innovation cannot be reduced to copying successful strategies used elsewhere, such as Silicon Valley.
Fostering local innovation requires strategies that are deeply rooted in local advantages combined with a global approach to reach out to foreign markets and to attract overseas talent. Around the globe, "innovation hubs" leverage local advantages and are populated by enterprise champions such as state-owned enterprises, family-owned conglomerates, and multinational corporations. These enterprises help bridge the gap between research and commercial success and can lead to a virtuous circle once a critical threshold has been reached. Investment attracts investment; talent attracts talent; and innovation generates more innovations.
Policies to promote innovation form the foundation for future growth, productivity improvement, and better jobs. Opportunities abound in such fields as education, the environment, energy, food, and transportation. The challenge is for business to optimize the interplay of institutions and the interactive processes in the creation, application, and diffusion of knowledge, human capital, and technology.
Before it's here, it's on the Bloomberg Terminal.
LEARN MORE