Entrepreneurs at Virginia Tech Get Their Own Animal House
Elizabeth Rowe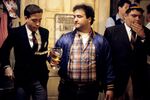 This fall, 35 aspiring entrepreneurs will get to live in Virginia Tech's new, $5.1 million Sigma Phi Epsilon fraternity house, the previous tenants having been evicted for exceedingly bad behavior.
With the frat boys gone, Virginia Tech decided a good use of the building would be a program called Innovate. Founded by the Pamplin College of Business, Innovate will bring together incoming freshmen and transfer students under one roof to live and learn from local entrepreneurs, alumni, and each other. The program, which awards course credit, is currently accepting applications for the fall and will be open to students of all academic backgrounds and majors.
Marc Junkunc, faculty director of Innovate, says he hopes the program will help students discover an interest in entrepreneurship early in their college careers, allowing them to pursue more opportunities as they arise. "That will be a powerful thing," Junckunc says.
Innovate is led by an 11-person steering committee of Virginia Tech faculty but will also receive input and support from a broader group of alumni, community members, and entrepreneurs. Junkunc says that while Innovate is not formally affiliated with Virginia Tech's entrepreneurship minor, it will position participants to pursue it should they choose to do so.
Professor Kevin Carlson, who helped develop Innovate, says that this is only the beginning and that when Sigma Phi Epsilon returns, the program will need to relocate. (The fraternity, which lost its charter in May after just one semester in the new house, won't be allowed to return to campus for at least two years.) "The idea would be that we would take the programming and move it someplace else—potentially to a larger community."
Join the discussion on the Bloomberg Businessweek Business School Forum, visit us on Facebook, and follow @BWbschools on Twitter.
Before it's here, it's on the Bloomberg Terminal.
LEARN MORE