Detroit Files for Bankruptcy
By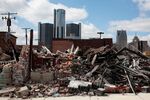 Detroit filed for Chapter 9 bankruptcy this afternoon, making it the largest city in the U.S. to seek court protection. The city's woes have been long documented, but the path toward bankruptcy accelerated in recent weeks.
Here's a brief timeline of how we got here:
• In March, the governor appointed bankruptcy attorney Kevyn Orr to be an emergency manager for the city, giving him authority to negotiate with creditors—and, if need be, decide whether the city should file for bankruptcy protection.
• In June, Orr made his opening salvo to creditors for restructuring $17 billion in debt and other obligations. He said all the creditors whose bonds were secured by specific revenue, such as water and sewer fees, wouldn't be forced to eat losses. But he grouped all of the unsecured bonds together, trying to force them all to share in the pain. Controversially, he considered pension funds as an unsecured creditor.
• In the past few days, Detroit reached an deal with banks that will, in essence, give the city access to casino revenues to keep the city running during bankruptcy.
• Yesterday the city's two retirement funds sued to prevent the city from filing for bankruptcy.
• Orr filed (pdf) for Chapter 9 protection today.
The case now goes to a judge to determine if the city should be granted bankruptcy protection. That question has three parts. Does the state allow municipalities to file for bankruptcy? Have the city and its creditors negotiated in good faith with each other? And is the city truly insolvent, or is there more that it can do? As the California city of Stockton showed, the first question is pretty cut and dried, but the others will likely be contested in court.
Before it's here, it's on the Bloomberg Terminal.
LEARN MORE