Congress Gets Serious About Saving the Post Office (Finally)
By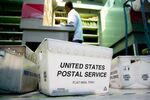 By now, most people know the U.S. Postal Service is on the brink of insolvency. But in the last few years, Congress has sometimes acted as though it was indifferent to the agency's troubles and the possibility that it might require a taxpayer bailout.
Now, Republicans and Democrats in the House seem to have collectively awakened to the crisis. On Wednesday members of both parties expressed hope that they would shortly pass legislation to fix the postal service at a House Committee on Oversight and Government Reform hearing. "The need for a bill is urgent," said Representative Darrell Issa (R-Calif.), the committee's chairman. "We intend to do it in the next few weeks."
Issa has already circulated a draft proposal for a bill that indicated his willingness to bolt together a bipartisan solution. One of the primary threats to the USPS's survival is a requirement that it set aside $5.5 billion every year to pre-fund future retiree health-care costs. Given the rapid decline of first-class mail usage, the USPS can no longer to afford to do so.
Issa's proposal would allow the USPS to calculate these costs based on calculations of what it will actually owe rather than making a fixed annual payment. This could reduce the agency's annual expenses for both present and future retiree health benefits from $8.5 billion to somewhere between $2 billion and $5 billion. That's likely to win over Democrats.
Meanwhile, Democrats have introduced a postal reform bill of their own with Republican-friendly elements. On Wednesday, Issa embraced a proposal to limit rural post office closings. And he surprised some of his Democratic colleagues when he announced at the hearing that he was abandoning his push to do away with the USPS's no-layoff policy, which, of course, is highly unpopular with postal workers' unions. [Update, 12:37 p.m.: Upon further clarification from the Oversight Committee staff, the Democrats should not have been surprised. Issa is still pursuing the end of the agencies no-layoff policy, he has simply changed his tactics.]
The two political parties still have substantial differences when it comes to saving the postal service. Issa is set on ending Saturday mail delivery, which the public supports. By and large, Democrats insist on maintaining six-day service. But if House Democrats and Republicans can maintain their newfound zeal for postal reform, they might even avert a bailout at USPS.
Before it's here, it's on the Bloomberg Terminal.
LEARN MORE