pursuits
An Airport Lounge for the Masses
By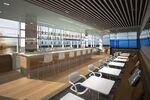 The airline lounge has a certain reputation—all-business, a bit snooty, and scandalously expensive. You, John and Jane Peon, probably can't afford hundreds of dollars per year to sip wine pre-flight or take a shower after a red-eye.
There's now an alternative: a pay-as-you-enter lounge, open to the masses. Airspace Lounge, owned by global airport services giant Swissport, has three locations, including one that's set to open on Friday in JetBlue's Terminal 5 at John F. Kennedy International Airport. A fourth location will open later this year in San Diego, and six additional lounge openings are planned for 2014.
One of the company's primary targets is "the customer who used to be a club member but doesn't have it anymore," says Airspace president Anthony Tangorra. "It's the person who comes in and says, 'Wow, I don't have to spend $500 anymore!' From most people we get very emotional reactions about it." The company also hopes to attract new customers: Airspace research has found that about 85 percent of air travelers have never used a lounge, he said.
Despite offering the conveniences of Wi-Fi, showers, and freshly brewed coffee, Airspace Lounge faces the hurdle of a $25 entry fee before you even get to charges for eating and drinking. The fee will rise to $35 during peak traffic hours. Entry comes with a $10 credit for food and drinks—nearly ensuring you'll spend more than that.
American Express Platinum cardholders get in free, as do Aer Lingus first- and business-class customers at JFK. The companies pay Airspace for their customers' access.
Airspace opened its first lounge in March 2011 at Baltimore/Washington International, an airport that no longer has a traditional airline lounge. A second space opened earlier this year in Cleveland, where United has the sole airline lounge. Tangorra cites Little Rock, Ark., and Boise, Idaho as the kind of market Airspace finds appealing, with ample supplies of business travelers and no single airline controlling more than a third of the traffic. Consequently, you'll probably never see an American Admirals Club or Delta Sky Club in either airport.
"After 2001, the lounges were exposed as cost centers," Tangorra says, citing the heavy retrenchment seen in airline lounges over the past decade, a marked contrast from the heavy buildup throughout the 1990s. Airlines are now concentrating the clubs in their hubs and in their most important focus cities, using them to complement the heavy marketing they pitch to corporate accounts and affluent travelers.
Still, it's not hard to envisage a co-branded lounge—for which an airline outsources the space's construction and management to Airspace, offering its high-value customers additional lounges without the up-front costs that airline finance departments detest—says Tangorra, a former finance executive at Continental Airlines. An Airspace lounge in a JetBlue terminal could be one such experiment, depending on how the airline decides to market the premium service it will launch next year.
JetBlue has been mum on new amenities or on what kind of routes it aims to deploy the service, but it's easy to think that the upscale experience will be expanded beyond the plane and into the terminal. JetBlue may decide that a lounge complements its expansion into serving affluent, "high-yield" travelers and could then operate a co-branded lounge with Airspace. At JFK, JetBlue has not decided whether customers traveling in the new premium cabin will get free Airspace entry and free food and drinks, says Mitch Nadler, JetBlue's director of concession programs, in an interview conducted on Thursday.
Tangorra is optimistic that Airspace's business model holds appeal for other low-cost airlines, even those known for a lack of frills, such as Spirit and Frontier. "All of these low-cost carriers are now chasing the high-yield revenue," he says. "Stay tuned."
Before it's here, it's on the Bloomberg Terminal.
LEARN MORE